Dulles Greenway eagles Rosa and Martin welcome three baby eagles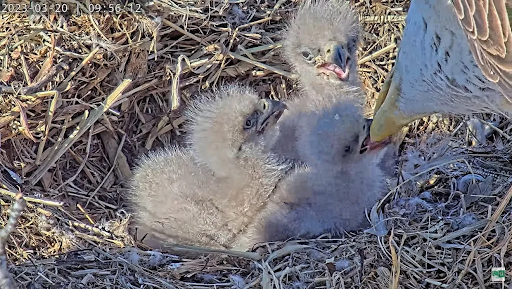 Rosa and Martin, two bald eagles who live on the Dulles Greenway Wetlands, welcomed their first baby eaglet this year to the world on March 14 . They now have a total of three, with the second hatching on March 17 and the third hatching on March 19.
Rosa and Martin have been parents before; last year, the pair gave birth to two eaglets, though only one survived to adulthood and left the nest. The three new eaglets, currently referred to as DG3, DG4, and DG5, will be named by an online contest, for which the vote is currently scheduled for April. For the firstborn eaglet "Pi" is under consideration since it was born on Pi day, and for the second eaglet "Patrick" is an option since it was born on St. Patrick's day. Their parents, Rosa and Martin, were also named in such a contest, and were named after Rosa Parks and Martin Luther King Jr. by a student of Sterling Middle School.
The eaglets, who are now in their third and fourth weeks of life, will be experiencing specific changes. In week three, the eaglets will grow to be about one foot tall, and their beaks and feet will be growing to almost full size. They will also gain a mohawk-like look for their head feathers in this week, which they will lose in week four. These changes, along with others they will be experiencing, can be read about on the Loudoun Wildlife website.
The bald eagle family resides in their nest on the 149 acre Dulles Greenway Wetland in Leesburg, which is a part of the Dulles Greenway, a 14 mile toll road connecting Dulles Airport and Leesburg. From the mid 1900s to 2007, bald eagles held either an endangered or a threatened status. Bald Eagles are now a species of "least concern". The eagles main diet consists mostly of fish, and they often steal food from other birds, or sometimes mammals. In a year they lay about 1-3 eggs. Baby eaglets leave the nest when they are aged around 12 weeks, meaning that DG3, DG4, and DG5 still have 8 or 9 weeks left with their parents.
Rosa, Martin, and their three children can be viewed on the Dulles Greenway Eagle Cam.