Local organization makes nation-wide impact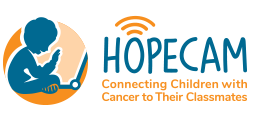 Over 17,000 children across the U.S. have pediatric cancer, a diagnosis which instantly flips their lives upside down. While going through treatment, many face isolation from their peers, which can leave devastating and lasting harm on a child's educational and social development.
Hopecam is a local organization that is determined to combat the overwhelming isolation children feel due to their inability to attend school. With the help of generous donations, Hopecam connects children to classrooms using tablets and computers with no costs to the participating family and school. Through their work, Hopecam has positively impacted over four thousand children in need across all 50 states.
Len Forkas founded Hopecam 20 years ago when his son was diagnosed with leukemia and has made it his personal mission to raise money to help sick children across the U.S. feel less isolated. Currently, he is climbing Mount Everest in an attempt to raise one million dollars which would help fund the purchase of the tablets and other necessary equipment.
In addition to this expedition, Len has also tackled multiple other strenuous adventures aimed at raising money such as biking across the U.S, running marathons, and cross country skiing in the North Pole. His expedition to Everest is part of Forkas' goal to complete The Explorer's Grand Slam, a challenge that includes venturing to both the North and South Poles and the Seven Summits. He is on track to finish his climb of Mount Everest on May 29. Donations are accepted on their website which can be found at www.hopecam.org.
Consider following Hopecam's social media accounts at @hopecam, donate to their website, spread awareness, and keep an eye out for volunteer opportunities.