Crisis in Sudan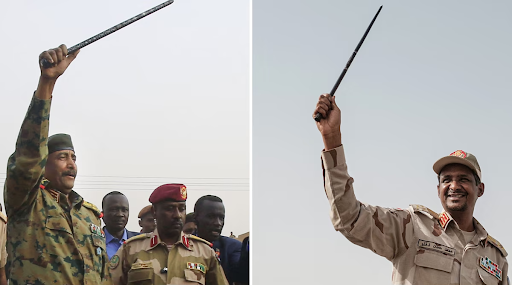 Fighting in Sudan flared up on April 15, 2023 between Sudan's military force, which is ruled by General Abdel Fattah al-Burhan, and the Rapid Support Forces (RSF), a paramilitary rival group which is led by General Mohamed Hamdan Dagalo, who is known as Hemetti. Around 700,00 people have been displaced, with the UN predicting five million people will need urgent help inside Sudan. About 900,000 more people are expected to flee to neighboring countries who are already struggling on their own. The death toll was estimated to be 600 people left dead and 5,000 injured. The situation in Sudan was tense even before this conflict as the former leader and dictator, Omar al-Bashir, was overthrown in 2019.
The fighting has been triggered by a plan supported by multiple nations to peacefully switch leadership, which is when both the army and the RSF were supposed to give up their power. Both parties hold the other responsible for the fighting.
Egypt, Saudi Arabia, United Arab Emirates, and Russia all wish to influence the way this conflict plays out. Egypt's president, Abdel Fattah al-Sisi, has a great connection with Burhan and his army and even sends political arrangements through Egyptian parties that have ties with the army. Both al-Burhan and Hemetti aided Saudi Arabia in an operation in Yemen. Hemetti also has relations with the UAE and Russia with Russia hoping to build a naval base in Sudan.
This conflict has severely affected the civilians with casualties and even looting. The residents of Khartoum, Sudan's capital, have reported substantial missile strikes after a rush of looting local businesses. Both the RSF and the army have time and time again ignored following the ceasefire agreements that help the people be as safe as they can. Saudi Arabia set up a place for representatives from both parties to discuss in Jeddah in homes they will agree on "an effective short-term ceasefire," said Saudi state TV channel, Al-Ekhbariya.