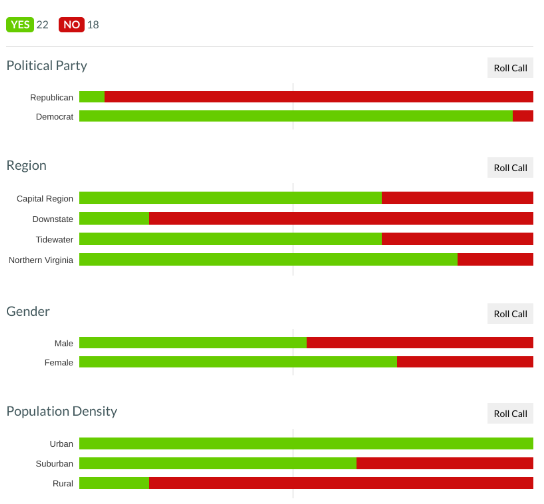 Since 1938 in Virginia, many disabled workers in Virginia have woken up in the morning and gone to work, only to receive massively lower pay than their coworkers for doing the same job. This is due to a provision to the federal Fair Labour Standards Act(FLSA) that allows employers to pay certain workers subminimum wages, colloquially known as 14(c).
According to CNBC's 2023 ranking report, Virginia ranked second out of fifty states for its business friendly environment. Despite this, more than half of the state's disabled workers make $3.50 per hour or less, according to a new report from the Government Accountability Office detailing the Department of Labour's oversight of the 14(c) certificate program. Employers wishing to pay disabled workers subminimum wage must apply for a certificate to do so, and these certificates can be signed into effect often without the consent or even knowledge of the worker or his/her guardian. The vast majority of these workers have intellectual or developmental disorders, and many lack the resources to contest their situations. One recent report from the Department of Labour's Wage and Hour Division(WHD) claims that the 73,500 14(c) employees in the state are owed a collective 15 million dollars from employers who do not adequately compensate them.
HB1924, which went into effect on July 1st of 2023, will require disabled employees to be paid the state minimum wage of 12 dollars per hour; an increase of nearly two hundred and fifty percent. It also states that the exclusions created by 14(c) no longer apply to employees hired after July 1st, 2023. Employees hired before this date will receive a gradual increase in pay that will reach state minimum wage no later than May 1st, 2024. The bill also requires that the Department for Aging and Rehabilitative Services and the Department of Behavioral Health and Developmental Services "prioritize efforts" to support previously 14(c) employees' transition from subminimum wage to integrated and competitive wage environments. These departments must also submit a report to the Governor and the General Assembly by May 1st, 2024 on the number of disabled employees working for subminimum wage at the time of the bill being passed and the rates at which they move to the standard wage model.
Recent efforts in the General Assembly have reduced the number of disabled employees who work under 14(c) certification massively. Service providers and businesses have embraced some alternative arrangements for their employees and expanded their ability and willingness to create competitive employment opportunities. The law passed with a bipartisan coalition that was very nearly unanimous.
Story continues below advertisement