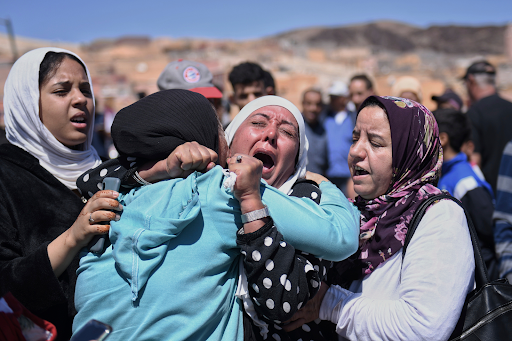 A devastating 6.8 magnitude earthquake struck Morocco on September 8, leaving over two thousand dead. It is estimated that 15,000 residents are displaced and are being forced to sleep outside in the cold or seek shelter with neighbors. Many victims remain fearful that aftershocks will bring further devastation.
"We slept in the garden last night fearing aftershocks. I'm traumatized. I cannot go back home. The feeling in the street is pretty bizarre. I've seen the city happy. I've seen the city sad. But this kind of sadness is unbelievable. People are in the streets because they're scared to go to their houses," expresses Khadijah Satou, a Marrakesh resident.
The earthquake's epicenter was in the High Atlas Mountains, but its effects were felt as far away as Portugal and was the deadliest earthquake to strike Morocco since 1960. Following the earthquake, residents ran to dig through the rubble to search for survivors trapped beneath.
The international community has rushed to Morocco's aid with countries such as France, Turkey, Spain, Algeria, China, the U.S., and many more sending rescuers, humanitarian aid, and medical supplies.
Story continues below advertisement
"I want to express my sadness by the loss of life and devastation caused by the earthquake in Morocco," states President Biden. "Our thoughts and prayers are with the people in Morocco," he added.
While the extent of the damage is still being assessed the Red Cross and Red Crescent organizations state that, "This will not be a week or two of response… we are looking at many months if not years of response."
Additionally, Caroline Holt, operations director for the IFRC says, "Search and rescue efforts will be prioritized in parallel, of course, with making sure that those that we know have survived are taken care of."
A three-day mourning period has been declared by King Mohamed VI. "Three days of national mourning have been decided, with flags to fly at half-mast on all public buildings."
The death toll is expected to rise as more bodies are uncovered beneath the rubble.