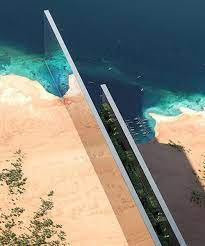 The Line in Saudi Arabia is a massive project that intends to create a completely self-sufficient 106-mile long city. The city will only consist of one building but it will be able to support nine million people.
The Line's design imagines two parallel skyscrapers 200 meters apart and 500 meters high. The Line will span a total distance of 106 miles across the northwest section of Saudi Arabia.
The Saudi government released plans for this project in 2017 and progress started in 2021, but the final product is still years from completion. The Line is only a fragment of the government's country-wide improvement plan, "Vision 2030," which is aimed at increasing tourism. The government's goal is to have 100 million annual visitors.
The Neom project is a 500 billion dollar part of Vision 2030 and focuses on the northwest region of Saudi Arabia, where The Line is being built. In addition to The Line, the Neom project intends to create airports and a clean energy plant.
Story continues below advertisement
In July of 2022, Saudi Crown Prince Mohammed Bin Salman, Chairman of the NEOM Company Board of Directors stated, "NEOM remains one of the most important projects of Saudi Vision 2030, and our commitment to delivering The Line on behalf of the nation remains resolute."
The Line will not have roads or cars and inhabitants will rely on a high speed train to get around. The train will have an end-to-end transit of 20 minutes. This is part of its goal to use 100% renewable energy and have zero emissions, using solar, wind, and hydrogen for energy.
On Neom's website, it states, "People's health and wellbeing will be prioritized over transportation and infrastructure, unlike traditional cities." It also states that The Line will be "a place of unparalleled social and economic experimentation – without pollution and traffic – coupled with world-class preventative healthcare, so people will live longer."
The Line will also have a 100% reusable water system. The water will be taken from the ocean and desalinated, but instead of putting the brine back into the ocean, the salt will be used inside the city.
The Line will have parks, waterfalls, schools, offices, and year-round climate control in indoor and outdoor locations. Adding to its sci-fi appearance, there are plans to have robotic maids and an artificial moon for residents to observe.
The Line tackles an environmental solution to urbanism where people will have more leisure time, higher disposable incomes, and will be closer to nature. Aptly, "Neom" translates to "future" in English, and this project will test the limits of futuristic technology.