Lack of sleep leads to debate
Advertisement
Hang on for a minute...we're trying to find some more stories you might like.
Fairfax County is currently in debate over the controversial issue of changing school start times. Most students against the later start times are those who participate in extracurricular activities.
Studies performed by doctors show the average teenage brain should not wake up until after 8 a.m. However, many question the appropriate time teenagers should sleep in order to obtain the best possible results.
When sleep patterns have been discussed in health classes, the teachers always stressed the amount of sleep teenagers need, not when they should be sleeping.
People around the county believe that if the start times of school are pushed back, students will receive more sleep. Though appealing, in terms of reality, the argument is mythological. Simply put, later times will have little effect on the student's sleep habits as they would get home later in the day and then have to stay up later to finish assignments.
Teachers also discuss the idea of student's daily routines effecting the amount of sleep. Students should not eat before bed and avoid electronic devices during late hours of the night. If start times get pushed back, so will dinner time and homework time.
Perhaps what the school board is missing as they evaluate the lack of sleep students are currently getting, is not the actual start time. Students these days who are longing for sleep, are incapable of achieving it because of their busy daily routine.
Colleges look for students who maintain a balanced lifestyle with good grades, extra curricular activities, and volunteer opportunities. To fill up a resume, many students spend majority of their day booked with activities, including the hours worth of homework.
If teachers lightened the homework load they assign, it would cause a bigger affect on helping students sleep patterns then changing school start times.

About the Writer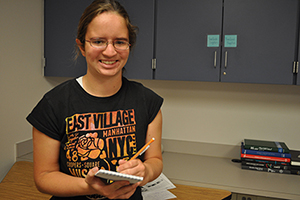 Meaghan McIntyre, online editor
Meaghan McIntyre is a senior and the opinion editor for the sentinel. As a third year journalist she is excited to expand her knowledge and skills involving...