10 ways to get into the Christmas spirit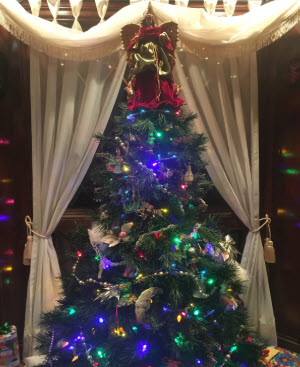 The holidays are right around the corner, and with only three days until winter break there is not a lot of time to prepare. Whether you stay in or go out, these activities are sure to get you in the Christmas spirit!
Visit a Christmas Tree Farm
Nothing says Christmas like getting a real evergreen to have right in your home. Picking out your own tree gives your home an extra special Christmas touch along with a fresh evergreen scent.
Watch a Christmas movie
Christmas movies are the best way to get in the spirit! Whether you watch a movie on Hallmark or Netflix, you are bound to find a cheesy Christmas movie to get you in the spirit. The classic Christmas movies are also a great way to get in the spirit, movies such as "The Grinch," "Home Alone," "Frosty the Snowman," "A Charlie Brown Christmas" and so many more.
Bake Christmas Treats
Christmas treats are one of the best ways to get in the festive spirit. Get together with some friends or family and bake sugar cookies, gingerbread cookies, or any other classic Christmas treat. Although messy, Christmas treats will be sure to get you into the spirit!
Drink Hot Chocolate
Nothing says Christmas like a hot cup of cocoa with marshmallows. Although simple, this is sure to get you into the spirit!
Look at Christmas Lights
Going for a night time drive to see all of the beautiful lights on houses is a great way to get in the holiday spirit.
Light a Christmas Candle
Nothing says Christmas like a warm evergreen scent flowing through your home during the holidays.
Go Ice Skating
Ice skating is the ultimate wintertime activity. Although ice skating on a lake is not safe, there are plenty of other places where you can skate around a rink, safley.
Listen to Christmas Music
Nothing says Christmas like playing classics all hours of the day. Although you can grow tired of hearing the same songs all season, Christmas music is the ultimate way to get into the spirit.
Watch a Christmas Ballet
All around, there are Nutcracker ballets being put on by dance studios locally. Not only are you able to support the local arts, you also get to enjoy a Christmas classic!
Give Back to Those in Need
There are so many different opportunities to give back to people who don't have as much. Donating to the school pantry along with picking a gift off a giving tree are just a few of the ways for you to give back to your community and spread the holiday cheer with others.
This holiday season will end before you know it so enjoy it as much as you can!
About the Contributor
Audrey Wheeler, Student Life Editor
Audrey is currently a senior at South Lakes High School. She is the Student Life Editor for the Sentinel. She enjoys singing, writing, volunteering,...