Varsity football hopes to achieve a winning record this season
Advertisement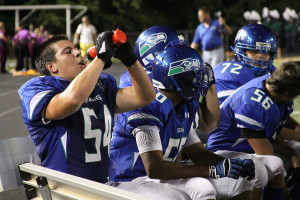 A new season brings new goals to the varsity football team.
"Our goal is to reach the playoffs and compete for a regional title," senior football captain Marc Harrison said.
Despite a 45-7 loss to Westfield Sept. 6, Harrison remains hopeful for the rest of the season.
"I feel that, as our toughest game is over, we can still win the remaining games and go for a 9-1 regular season record," Harrison said.
The team currently has a record of 1-0-1, following a 14-8 victory over Washington-Lee Sept. 12.
Senior football captain Alex Woodward credits the team's daily practices and summer training sessions to their recent win.
"We are prepared because we have had really good training camps over the summer," Woodward said.
Woodward believes that the team will achieve post-season success.
"My expectation for the football team this season is to win districts," Woodward said
For now, the team is preparing to play long-time rival Herndon Sept. 20.