South County defensive coordinator named varsity head football coach
Wooten resigns to pursue Master's degree, focus on family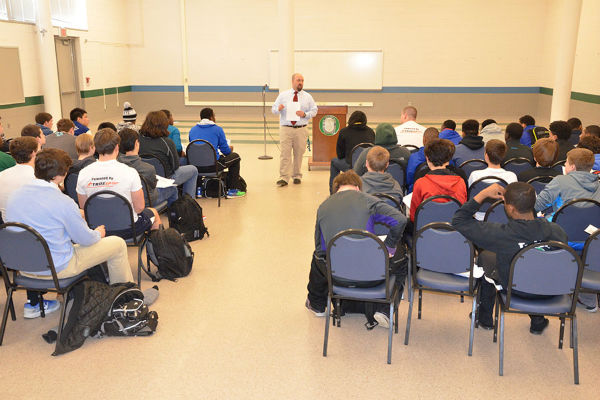 Advertisement
Varsity football welcomes its third new head coach in the past four years, hiring Trey Taylor from South County.
Taylor, who most recently served as the defensive coordinator at South County, has experience as a head coach at both W.T. Woodson and Robinson.
During a five-year run at Woodson, Taylor went 31-23, leading the team to the State Semi-Finals in 2004 and Region Finals in 2009.
Taylor went on to coach the Robinson Rams in 2011, one of the state's most successful football programs.
However, Taylor was dismissed after two seasons with a 9-13 record.
Taylor went on to work at South County, another football team known for its success. Last season, South County finished with a 9-3 record.
"Coaching at several different schools in Fairfax County has allowed me to work with a variety of different student athletes," Taylor said. "Learning how to relate to different types of players is an important characteristic I have picked up over the years that will help me adjust quickly here at South Lakes."
Taylor was chosen as the new head coach for the Seahawks after former head coach, physical education teacher and alumnus Marvin Wooten, stepped down after three seasons.
In a statement of resignation, Wooten cited plans to focus on the last phase of his Master's Degree and spending time with his family.
"At this stage of my career, I can no longer commit to the time and effort it takes to run this program," Wooten said in the statement. "Anything less than 100% would not be fair to the players and families of this community."
According to assistant athletic director Mike Astudillo, the process of choosing a head coach to fill Wooten's position was not easy.
"We had a lot of really strong candidates and interest from around the region because a lot of people know we have talented and motivated athletes," Astudillo said. "We're on a good trend. Coach Wooten did the best he could the past three years and improved the team. Coach Taylor is not only the best fit for the program, but the kind of coach that can take us to the next level. He's got some good experience, I think it will be a good fit for South Lakes, for our talented players."
Taylor believes in maximizing the performance of the student athletes based on their individual talents, which he credits to his successful past at Woodson.
"As far as strategies go, you have to tailor what you do to fit your personnel," Taylor said. "As a coach, you have basic concepts that you believe in, but I think you have to be willing to tweak what you do based on the players you have."
In 2004, Woodson rushed for 4,300 years and passed for just over 500. Five years later, in 2009, the team rushed for 2,500 yards and passed for another 2,500.
"Different types of kids on those two teams, but both were able to find success because we utilized the talent we had," Taylor said.
Just recently named head coach, Taylor has already begun planning for next season.
"We will be a run first team that will utilize the option," Taylor said. "We want to spread the field and get the ball into the hands of athletes.  Defense will be focused on stopping the run."
Astudillo believes that Taylor will bring success to the program.
"We're on the upswing, prime and ready," Astudillo said. "Coach Taylor is the guy that can take us there."