Track and field continues winning ways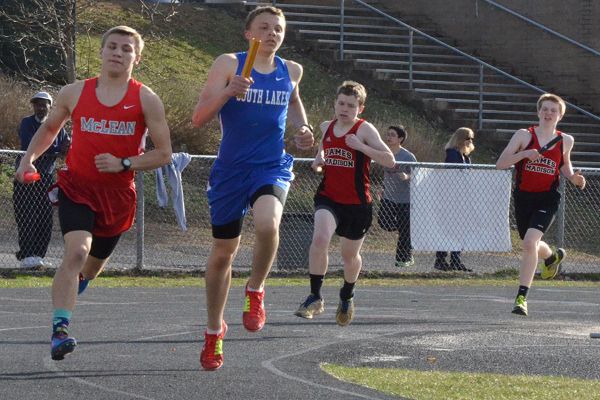 Advertisement
Track and field continues to compete at a championship level, as evident by their performance at the Mountain View Wildcat Invitational on March 29.
The boys team placed third out of 20 teams, scoring a total of 56 points. The team narrowly missed earning second place, finishing a point and a half behind Forest Park. Colonial Forge won with a total of 105 points.
The girls tied Oakton for fourth place out of 17 teams, with a score of 67. South County took first place with 121.50 points, followed by Colonial Forge with 77.50 points and Forest Park with 71.50 points.
"I ran the 400 meter for varsity," sophomore Etienne Dailly said. "We've had some great showings and a lot of talented people."
A highlight of the event was sophomore Alex Rudison's performance in the pole vault, which earned him first place. Thirteen other Seahawks walked away with medals, including junior Ozioma Chinaka who placed third in the pole vault.
Crowned Liberty District Champions by over 70 points last year, the girls team goes into the season in defense of its district title. The boys finished second in the district. This year, the Liberty Conference Championship will be held at South Lakes May 20-21.
"My goal is to finally make it to districts this year," Dailly said.
Members of the track team will compete in up to 21 scheduled meets this season. Milestone events this season include the Arcadia Invitational on April 11 in Arcadia, California. The varsity squad will fly to California for five days for the competition. Additionally, the team will travel via bus to Philadelphia for the Penn Relays, April 24-26.
The athletes strive to beat their personal record in every race in order to qualify for the travel invitational and district competitions.
"I think that this season has gone well so far," sophomore Griffin Lowe said. "For me personally, I have PR'd every race. My goal for the rest of the season is to qualify for districts."
The team is led by head coach Scott Raczko and assisted by distance coach Joseph Schuler, sprint coach Valerie Lister, pole vault coach Ginny Shapiro, and throws coach William Shapiro.