Senior Rose Giusti reflects on nine years of volleyball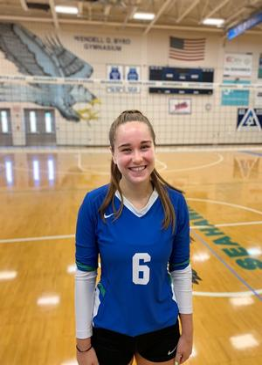 For as long as she can remember, Rose Giusti has been playing volleyball, and her last season with South Lakes is coming to an end. She has been on the varsity team since she was a freshman, and now with her, and 7 of her senior teammate's, departure from South Lakes, there is a lot of room for newer players to step up and become the team's next best player.
Volleyball has been a part of Rose's life since she was in 3rd grade. She's hoping to complete her final year with an improved record from last season, and so far the girls varsity team has a record of 8-7. Just one year ago they ended the 2018-2019 season with a losing record of 6-11. Hopefully they can keep up the winning record that they currently have.
Volleyball has also played a key role in "keeping her in shape and keeping her motivated to do other things," she says. And while she won't be pursuing her athletic career in college, she will continue to play recreationally from time to time. One of the main people she looks up to is Misty May, a three time gold medalist in the summer olympics for volleyball, and is commonly considered to be one of the greatest players of all time. Just like Misty, Rose is a team player, and always helps to bring up the energy of her teammates to keep the right mindset, and secure the win.
Her teammates say that she is one of the most hard working and determined players on the team, and she always tries her hardest, regardless of what the scoreboard says.
Rose always knows there is one group of people that she can always rely on: her team. Next year Rose will be attending Virginia Tech where she won't playing volleyball for the school, but hopes to play with her friends whenever she has the time.
About the Contributor
Devin Glauser, Staff Writer
Devin is currently a sophomore at South Lakes High School. He is a Staff writer for the sentinel. He specifically loves to write about sports, and he also...