Jay Gruden Fired, Callahan Appointed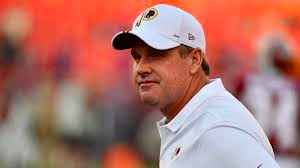 Jay Gruden, the head coach for the Washington Redskins was informed that he was relieved of his duties, by team owner Daniel Snyder and president Bruce Allen. The Washington Redskins have consistently lost their past five games, frustrating not only fans but also the players themselves. The team issued a statement that shared, "Through the first five games of the 2019 season, the team has clearly not performed up to expectations, and we all share in that responsibility. Moving forward we are committed to doing all that we can collectively as an organization to turn things around and give our Redskins fans and alumni a team they can be proud of in 2019 and beyond."
Gruden's record was 35-49-1 during his 6 seasons with the Redskins, with only one playoff appearance. After holding a press conference, Bill Callahan was introduced as the interim-fill Redskins head coach for most likely the rest of the year. This means the Redskins are now in search of a new head coach as well as someone to help the rookie quarterback Dwayne Haskins improve.
"Gruden's teams were viewed as having lacked discipline," said president Allen, who's now head of the search for the new coach. They will find a coach that integrates discipline whether it be offensively or defensively.
Gruden joins the other three coaches that have been fired under Dan Snyder's time as team owner. This trio includes Marty Shottenheimer, Joe Gibbs, and Mike Shanahan. Jon Gruden, Jay Gruden's brother who's a head coach for the Oakland Raiders, said "I'm obviously disappointed for my brother. He worked hard, but our dad has been fired, I've been fired, and now him, so welcome to the club, bro."
About the Contributor
Sean Caceres, Staff Writer








Sean Caceres is currently a junior at South Lakes High School. He is a staff writer for The Sentinel and plays football...