NBA All-Star game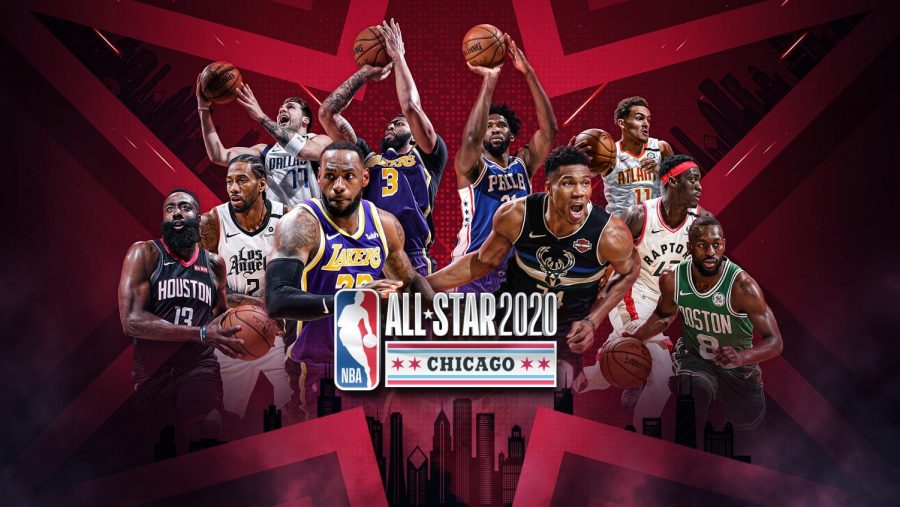 This year's NBA All-Star Game will be held at the United Center in Chicago. The pool of players is determined by fan voting, and those that get the most votes from each conference will be tabbed as team captains. The captains can then pick from a group of four other stars from each conference (eight overall) then filling out their bench with players selected by coaches and players.
The team captains this year are the same as last year with the Western Conference captain being Lebron James of the Los Angeles Lakers, and the East's being Giannis Antetokounmpo of the Milwaukee Bucks. Lebron got this first pick and he went with his teammate Anthony Davis. Giannis also chose a big man with his first pick, selecting Joel Embiid of the Philadelphia 76ers. Lebron's remaining starters are Kawhi Leonard (LA Clippers), Luka Doncic (Dallas Mavericks), and James Harden (Houston Rockets). Team Giannis's remaining starters are Pascal Siakam (Toronto Raptors), Kemba Walker (Boston Celtics), and Trae Young (Atlanta Hawks). Then the second round of drafting consists of the reserves for each team. The reserves on Team LeBron are Chris Paul, Damien Lillard, Nikola Jokic, Ben Simmons, Domantas Sabonis, Jayson Tatum, and Russell Westbrook. Team Giannis reserves are Brandon Ingram, Donovan Mitchell, Jimmy Butler, Rudy Gobert, Kyle Lowry and Khris Middleton.
Each team is playing for its own Chicago based charity selected by the team captain. James' team is playing for Chicago Scholars, which is a nonprofit organization with the goal of giving determined students in under-resourced communities the opportunity to attend a university if they don't have the financial support of their family. Team Giannis will be playing for another academic, nonprofit charity, called "After School Matters." This program provides thousands of Chicago teenagers with after school, and summer-long programs to help encourage academic success.
Another change in this year's all-star game will be the jersey numbers of each team. Team Giannis will wear the number 24 in respect of an NBA legend, Kobe Bryant, who sadly passed away recently in a helicopter accident. And Team LeBron will wear number 2 in condolences to Gianna Bryant, Kobe Bryant's daughter. As well as wearing the numbers of Kobe and Gianna, each team's jersey will have a patch containing nine stars for each life lost in the accident. Additionally, the NBA will honor Kobe by changing the format of the game. After every quarter, the score will reset to 0-0. In the 4th quarter, though, the cumulative score for each team will be used and the team leading will have to score 24 points to win. For example, if a team is winning cumulatively 100-95 after 3 quarters, the first team to 124 points is the winner. Each team donates $100,000 to their charity if they get a higher score in a given quarter.
These actions show how the NBA isn't just a basketball league, and that there are other aspects of life where the importance extends beyond basketball. It also shows how much the league is affected by the loss of a great individual on and off the court. Many lives were affected by this loss of Kobe and prayers and condolences from fans and players around the world are sent out to all the families directly impacted by this devastating accident.
About the Contributor
Devin Glauser, Staff Writer
Devin is currently a sophomore at South Lakes High School. He is a Staff writer for the sentinel. He specifically loves to write about sports, and he also...