Seahawk Dance Team off to nationals!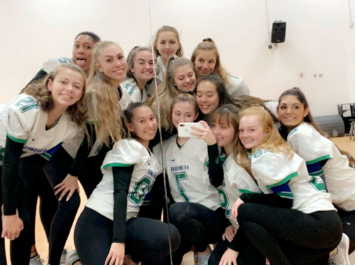 The South Lakes Dance Team will be leaving for Dance Nationals on Thursday, March 5, 2020 in Orlando, Florida. They will be competing against teams nationwide to determine the best team in the country. This is the first year that the Seahawk dancers have gone to Nationals. They had to qualify through sending a video of their dance.
Along with competing at Nationals, the dancers will be spending time at Disney World and enjoying the Florida sun. The dancers have been working extremely hard throughout the entire season and even extended their season by a month, in preparation for the competition of a lifetime.
The Seahawk Dance Team has competed in two competitions already. They placed sixth and third, respectively. Many people don't know that the dance team competes outside of just doing the halftime shows for football and basketball games. They compete in the "pom category," which contains sharp arm movements and using poms.
The Sentinel wishes the Seahawk dancers good luck as they perform Friday night. Go Seahawks!