"Run Fast" Hannah Waller's South Lakes Legacy
Ever since she has been running for the South Lakes Track and Field Team, Hannah Waller has stood out for many reasons. Her pure talent alone sets her apart from the competition, but her drive is what distances her from her peers. The work put in behind the scenes is truly what distinguishes a good runner from a great runner. In her senior season, which was cut short, she thought that the biggest deal for her was to pass down the knowledge that was given to her, saying, "I wanted to develop relationships with the underclassmen to really teach them some of the lessons I learned and to have a good team bond. I think that we're really close, the closest team I've ever been a part of…".
The word team is said numerous times by Hannah, focusing on her team's accomplishments rather than her own. That can be difficult to do with such a decorated runner as Hannah. She owns a good amount of South Lakes records, for both girls and boys teams. Her relay team made it to the National High School championship last season, an amazing accomplishment by itself. That isn't where it stops, though. Hannah worked on her craft throughout the summer and fall to prepare for the winter season where she anchored her relay team to the best time in school history and a District Championship. The list of her favorite moments is something that can be talked about for a long time by themselves, but that is not something Hannah focuses on. From placing 6th in Nationals her sophomore year to winning States her sophomore and junior year, she has no shortage of awards and recognition. She chooses, though, not to let that be her defining legacy.
When considering Track and Field, the average sports fan thinks about the Olympics and winning a gold medal as the peak a runner can reach. That is not the highest point of the track and field mountain, though. Gold medalists such as Usain Bolt and Justin Gatlin have gone on record to say that their biggest achievements aren't winning a gold medal, but to beat their own record. Hannah looks to follow in their footsteps, not only to win gold medals and international awards, but to be better than her previous self and to set her own personal records and to beat them.
When asking a runner what their inspiration is, there is such a wide array of potential answers. Hannah finds inspiration in places such as her teammates and her mother. Many South Lakes students know Mrs. Waller as the voice behind the cafeteria announcements, but to Hannah, she is much more than that. As Hannah's coach, she is incredibly respected, but even more so as her mom and biggest fan. "She has meant so much to me through my career and especially the recruitment process. She asks those questions that I don't necessarily think of. For example, she asks how coaches project me in the future, and also she went to all my visits with me, which helps me with this whole recruitment process as well," Hannah explained.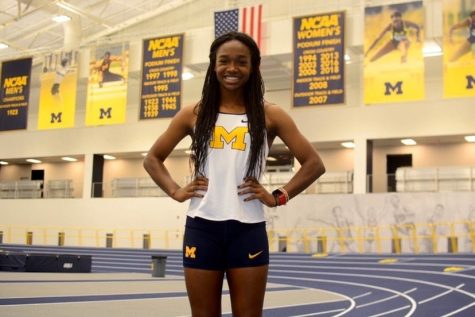 This segways into Hannah's recruitment perfectly. Hannah recently announced after weeks and weeks of debate that she would be attending the University of Michigan to run for them. She had fielded offers and visited Michigan, University of Pennsylvania, Cornell University, and the University of South Florida. Ultimately, she chose to run for the Wolverines after initially committing previously, but without her letter of intent, she backed out of her verbal commitment to reopen her recruitment. After looking at it from all angles, she chose Michigan, a place where she believes will give her the best chance to reach her goals and strive as not only an athlete but as a person as well.
In her opinion, the hardest part of track is staying mentally sharp through all the different, no pun intended, hurdles that track has to offer. "Staying mentally sharp is so key because just staying focused on the next thing, the next task is key. It helps you not get complacent, like if you get a PR(personal record), the thought process shouldn't just be to celebrate your accomplishment, but to think about how to beat it again and again to keep getting better," she says. The push to the next level and to one's limits is what she thinks really separates good runners from great runners and what creates the gap between levels such as high school and college. As far as something that someone who doesn't run track might not know is just how difficult it is to run track. "A lot of people bash track and say it isn't a sport, but I want to see them run track and see how difficult it is, you know," she said with a smile. The practices everyday of the week, grueling as they can be, make it very difficult to run track competitively and to do so at such a competitive level.
Hannah's ambitions will be the driving force in where she wants to go and where she will ultimately end up. In her "5 year plan", she sees herself being an Olympian, and training for another Olympics with a team. She also sees herself having graduated from a university(Michigan) with a degree in one of her passions. That passion has yet to be discovered, as she is still deciding between sports marketing, business, among others. She is keeping her options open in that sense, trying not to hold herself down in that way. As far as the last four years, Hannah says that the best part has been the people she has met at South Lakes. She relishes the fact that she can go to her close friends for anything she wants and also credits the environment that South Lakes has, saying, "The way people go about their business is just so fascinating. It seems like it never gets stagnant or boring here, which is great. All the staff and students are just so encouraging of me and it's something that I've really enjoyed in my four years here.".
Hannah is looking toward the future, both athletically and personally. She's enjoying the ride she's on and trying her best to deal with the challenges and adversity that she gets dealt. "The beauty of this journey," she says, "is that I can be whatever I want to be and that is so amazing. I have so much potential, both on the track and in my own life, and I can't wait to see where that takes me,". Hannah's ambition drives her to reach new heights, and takes her to new places every day. Hannah Waller might just be a South Lakes student for the time being, one who is going to a major college athletics program, but she has no intention of stopping there. The rest of her story remains unwritten for the time being.
About the Contributor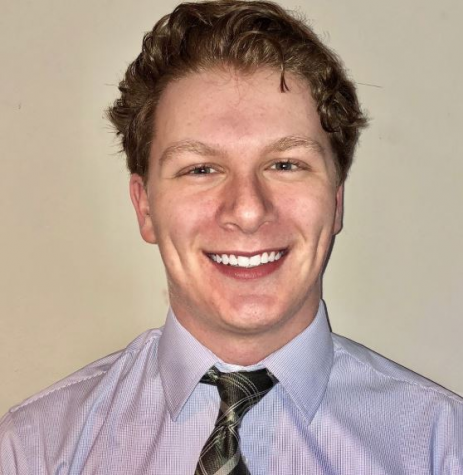 Marc Goldstein, Editor in Chief
Marc is a senior at South Lakes and is the Editor in Chief of The Sentinel. This is his 4th year on staff, and third as an editor. Outside of writing for...