Le'Veon Bell released after two seasons with the Jets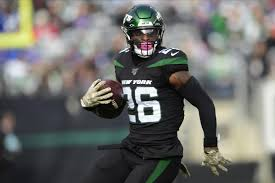 It was just a few years ago when Le'Veon Bell was one of the top running backs in the NFL. How in two seasons did Bell go from one of the top backs in the league to one of the worst? After a season of negotiating a new contract with the Pittsburgh Steelers in 2018, Bell became a free agent after the season. Bell then decided to sign with the New York Jets on a 4-year contract. Little did football fans know that this would be one of the worst free-agent signings in NFL history.
Le'Veon Bell's hype coming into the 2019 season was unmatched. After sitting out the entire 2018 season, this would be his first action on the field since 2017. This hype was short-lived. After not playing in a single preseason game, Bell made his debut for the Jets in Week 1 against the Buffalo Bills. In that game, he had only 60 yards rushing on 17 carries. He did have a receiving touchdown, though, but the Jets would fall to the Bills in their opener.
The entire 2019 campaign was a real struggle for Bell. He had no games in which he had over 100 yards. He totaled only 4 touchdowns in the entire season and had only 789 yards rushing. Since he only played 15 games, his average YPG (Yards Per Game) was only 53 yards. His first season with the Jets was a major disappointment and a waste of time and money.
Coming into the 2020 season expectations were just as high. Many fans bought into the comeback of Le'Veon Bell. With no real running back competition, Bell was the outright starter at the start of the season. It was rough right out of the gate. He suffered a hamstring injury in the 3rd quarter in Week 1. Bell was then placed on the 3 Week IR(injured reserve). After sitting out for a minimum of 3 weeks, Bell was active again in Week 5. Again, Bell underperformed. Bell had only 60 yards rushing and one catch for 7 yards. Needless to say, Bell played awful.
After the game, was when all types of rumors came out about the future of Bell in a Jets uniform. Bell was reportedly liking tweets of fans who said that Bell should be traded. After that incident, it was clear the Jets were trying to ship off Bell. No teams were even interested in trading for the former Pro Bowl back. After no team wanted to trade for Bell, Le'Veon Bell was released on October 13, 2020, and officially became a free agent.
Now one may ask, how could this happen? Well, a lot of things. Adam Gase, the Jets Head Coach, is widely known around the league as a messy coach. Coaching has been a problem for the Jets when they have been under Gase. When Bell was in Pittsburgh, he was one of the best backs in the league and dominant at that. After he gets a 4-year deal you struggle all of sudden. Many point to coaching as the issue here but production was as well. In the one year plus a few games, he was with the Jets, Bell never had a single good game in the eyes of fans and executives and never showed any sign of his old self. Is age finally catching up to Bell? Or does he just need a much-needed change?
With one of the best running backs available to sign teams around the NFL are looking at Bell to become their next starting or back up, Running Back. A lot of teams were interested in Bell. The Dolphins, Chiefs, and Bills are not only great fits but had also been rumored to be interested in Bell. In the end, he chose to sign with the Super Bowl Champions from a year ago, the Chiefs. He joins a very talented offense and goes from one of the worst coaches in the league to one of the best in Andy Reid. He should be poised to thrive in this situation, but if he doesn't it can be safe to say that the Jets were not the entire problem when it comes to Le'Veon Bell.