Modern mysteries in sports
"In the end, it makes one wonder, what is actually happening behind those closed doors and what other mysteries are being hidden from the public just in plain sight?"
`When it comes to sports, like any other topic, there are always unknowns and certain things that can't be proven to be true or false. Certain theories that come up are simply perplexing enough to not be given an opportunity to be designated as truth or a lie. In sports, a lot of the history is from times in which technology was not a key facet of the game, therefore, much of the lore from certain sports are simply stories passed down. Even some modern mysteries in sports are unanswerable, with conflicting information and, at times, simply a denial on everyone's part in the story.
Sports are full of mysteries, whether they are obvious or not is a different question. Small things can be mysteries—like what happens in between innings in baseball when players go to the clubhouse to watch film, or how malicious injuries get fixed so quickly, or even if concussion protocols are actually followed when a star player gets hurt. All of these questions and more draw in sports fans. Sports fans are like every other person in the world: they love drama and mysteriousness. TV shows that are about mysteries and have an element of drama in them are more prone to being big-time sellers in the entertainment industry, and it is no different in sports. The television industry heavily influenced this new phenomenon. The desire to dig deeper into something was only really idealized in the mid to late 1900s, and the thirst for new knowledge has only increased since then. There are countless examples of athletes, and teams having a very unique situation that, in the end, left more questions than answers.
In the early parts of the summer, the sports world, desperate for any sort of entertainment, was given a ten-part documentary about Michael Jordan and the 1997-98 Chicago Bulls. This was arguably one of the best teams of all time featuring one of, if not the, greatest basketball players of all time. This documentary fascinated viewers, with the players opening up about some of the strangest memories of what happened behind the lens of the camera. The documentary answered a lot of questions about the team, and the players on it. For example, it explained the relationship between Jordan and Scottie Pippen, his wingman and second threat on the team. It also talked about the strange Dennis Rodman, and what he was going through at the time.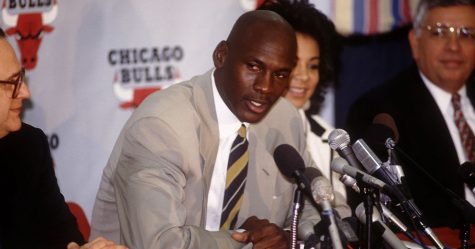 The documentary left a mere two stones unturned, though. The first question mark left was concerning the curious case over Jordan's first retirement. On October 6, 1993, Michael Jordan shocked the entire world by announcing his retirement from the NBA to go play in the MLB. This was coming on the heels of a third straight NBA title for Jordan and the Bulls. Jordan said that it was always his dad's dream to see his son play in the MLB, and this was his way of honoring his late father. The move stunned everyone, including the Bulls and NBA fans as a whole. This prompted many to believe that Jordan's retirement was actually just a cover for a suspension for his gambling issues. Jordan not only denied any allegations at the time, but has continued to do so as the years have passed. The rumors have been in circulation for years, but became a big topic of discussion as the documentary made headlines. People have gone as far as to look into his financial records to attempt to find any sort of transaction with a mobster that would force his hand into making a deal like this. While the idea of a star basketball player being in cohorts with the mob seems unlikely, there is a decent opportunity that Jordan's 1st "retirement" was actually a suspension handed out by the former commissioner of the NBA, David Stern. Unfortunately, Stern passed away in early 2020, so this rumor will never be given a chance to be proven or disproven.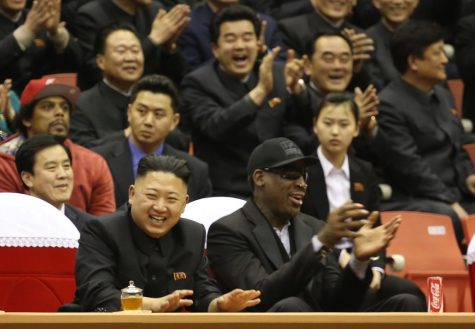 The second question mark the documentary left unanswered was that concerning Dennis Rodman and his trip to Las Vegas. Now, Dennis Rodman is one of the most… interesting people in modern history, let alone sports. In his playing days, he was known for dying his hair various colors, wearing a wedding dress and marrying himself allegedly, and dating celebrities like Madonna. Since retiring, he has gone into different endeavors to say the least. He hangs out with Kim Jong-un, being one of the few Americans to make it in and out of North Korea, and is often posting strange things onto his social media, like this post back in 2019 on his Twitter. He considers himself to be a "basketball diplomat" and wants to be a part of peace negotiations between North Korea and the US. By himself, he is a mystery, but one story in particular was brought up during the documentary that really raised some eyebrows. According to coach Phil Jackson, Rodman requested to be allowed to take a weekend off during the season to go to Vegas to clear his head and step away from the game. Knowing that Rodman would probably go no matter what response was given, Jackson agreed as long as he was back by that Sunday night. So Rodman went, and once the 48 hours allotted for him were up, Jordan took matters into his own hands. He went to Rodman's house, and took Rodman out of his bed and brought him to the Bulls' practice facility. Jordan recalls the story as being hectic with the expectation that Rodman wouldn't even return, and that upon getting back, he was out of shape. As with many things involving Rodman, the truth might be hard to uncover, and the world may never know what truly happened in those 48 hours and the ones that ensued.
In the mid 2010s, college football had a bonafide star in the making with Notre Dame linebacker Manti Te'o. Te'o was a physical specimen on the field. Off the field, he was a bit of a wildcard. He spoke at times about his girlfriend who he claims to have met online. Her name was supposedly Lennay Kekua. One day, Te'o reported that both Kekua and his grandmother were both seriously injured in a car crash, and when treating Kekua, they determined she had leukemia. All of this was occuring during his amazing 2012 season that saw him compete for the Heisman Trophy, an award given to the best player in college football, but normally handed out to quarterbacks or running backs. As the story goes according to multiple sources, Kekua and Te'o's grandmother passed away on September 11, 2012. Upon receiving an anonymous tip, two reporters began to investigate the actual identity of Kekua. Their discoveries appalled them. They came to the conclusion that Kekua was actually a man named Ronaiah Tuiasosopo. All pictures of "Kekua" were actually Diane O'Meara, Tuiasosopo's former high school classmate. The relationship was then classified as a "strictly online relationship", which conflicted with previous accounts by Te'o, who claimed to have met her after a football game. Te'o eventually confessed to having never met her in person, believing that his father would disapprove of this relationship if he knew his son had never actually met the girl in person. Then Tuiasosopo confessed to Te'o that he had, in fact been catfishing the All-American, and that the whole thing was him trying to get close to the star. After this, Te'o was never the same player on the field. Whether it has to do with the trauma of being catfished under the public lens, or simply a matter of his skills not translating to the next level, that remains a mystery. In a bit of a happy ending, Te'o did actually get married to Instagram model Jovi Nicole Engbino in August of 2020. The question still remains, though, what actually happened to Te'o as an athlete and what really occurred when he got catfished?
The mystery of The Mitchell Report is more overarching than any others, and even got Congress involved. From the dawn of time, baseball players have always been trying to use small nuances to gain advantages over one another. Things like using pine tar to affect the spin of the ball, corking one's bat to make it easier to hit home runs, are just some of the things that were used by players, and since outlawed. In the 1990's, though, baseball had a new and bigger advantage that players were taking advantage of: steroids. In the early 2000's, multiple reports came out concerning players who used steroids in order to hit more home runs. This all was speculation, and some people used common logic, but it all came to a head when former self-proclaimed steroid user, Jose Canseco published a book that illuminates the ways steroids were used in baseball. Additionally, he dropped names of players who used steroids, including some of the game's biggest stars like Roger Clemens, Barry Bonds, Mark McGwire, among other big names at the time.
This rocked baseball, and even made its way to Congress, where many baseball players had to testify. In the end, almost all of them pleaded innocent, but shortly after the hearings, the ongoing investigation came out to the public. The report that came out was called The Mitchell Report, and was a 409 page document that released the findings of the MLB investigation on the subject of performance enhancing drugs. The Mitchell Report explains the lack of testing done in the league, and names 89 players who were in fact on steroids. These players all confessed to lying in their previous statements. This tarnished the legacies of many players, keeping them out of the Hall of Fame. No jail time was served, but there was a lot of money lost in the whole mess. The MLB lost a lot of fans, and a lot of trust from the public. In the future years, stars like Ken Griffey Jr. emerged to make baseball popular again, and over time this scandal would be less and less of a big deal to the public. By the time MLB had done their damage control, they had established performance-enhancing drug (PED) testing protocols and suspensions that went along with testing positive for a banned substance. Questions still remain to this day, though: Who really was on steroids? Which players were actually telling the truth?
Over the long, illustrious history of sports in the United States, there have been countless examples of strange occurrences in sports. Sometimes, like in those examples, we have not had a definitive answer to them, or some have mere speculation as the answer. Unfortunately for the public, full transparency will never happen in sports, both for the privacy of the players and the reputation of the leagues. This is just like with governments, which argue full transparency will do no good. While the argument is made that the transparency will allow for more information and being upfront with viewers, it might show a darker side to sports. Things like players who are known to the public as a nice fan favorite might be seen in a darker light if there is full transparency. This concept scares many teams. They don't want to potentially tarnish their public image by putting a bunch of cameras in their offices and locker rooms which might show the public some of the less ethical things done behind closed doors.
In the end, it makes one wonder: What is actually happening behind those closed doors and what other mysteries are being hidden from the public just in plain sight?
About the Contributor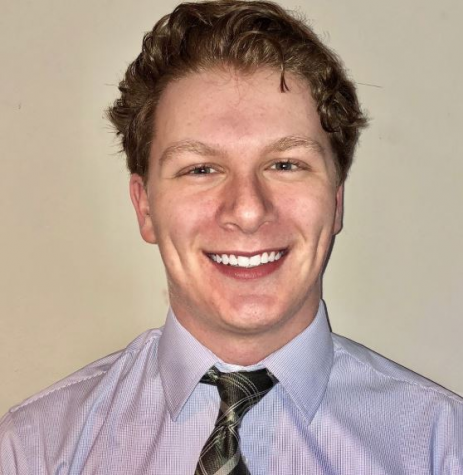 Marc Goldstein, Editor in Chief
Marc is a senior at South Lakes and is the Editor in Chief of The Sentinel. This is his 4th year on staff, and third as an editor. Outside of writing for...