Winners and losers of James Harden trade
On January 14, James Harden was traded by the Rockets to the Nets. He is now joining his former teammate Kevin Durant. The trade was a three-team trade between the Rockets, Nets and the Cavaliers. In the trade, Jarret Allen, Nets' Center was traded for Taurean Prince, Cavalier's forward.
Caris Levert, Nets guard and forward Rodios Kurucs, as well as three first round draft picks (2022, 2024 and 2026) and four first round pick swaps (2021, 2023, 2025 and 2027) to Houston. The Rockets also received guard Dante Exum and a 2022 first round draft pick from Cleveland. The Nets also acquired a 2024 second round draft pick from the Cavaliers to complete the deal.
The reason for the trade was due to Harden comments in an interview where he said that in Houston "We're just not good enough… I love this city. I literally have done everything that I can… I mean, this situation is crazy. It's something that I don't think can be fixed." After this comment he was traded less than two days later.
This was one of the biggest trades in not only recent years but in NBA history, James Harden is reunited with former teammate and MVP Kevin Durant and champion Kyrie Irving on the Nets. The Houston Rockets and Cleveland Cavaliers solidified their future and the Pacers gained an underrated star in Caris LeVert. Now since the Nets have added a third star, they're now serious Championship contenders.
Brooklyn Nets: B+
The Nets added yet another star to a win-now team. With the current unknown absence of Kyrie Irving, the Nets decided their time was now and went all in to get All-Star Guard James Harden. Harden is now reunited with former MVP Kevin Durant. Besides all these stars there isn't any talent on this Nets team. They lack the depth and the dominant play of a big man. If the Nets find a way to gain these very important pieces, they are my NBA Finals pick.
Houston Rockets: A-
The Rockets obviously lost their best player since the 1990s with Hakeem Olajuwon, but they were not going to win the championship this year and Harden knew it. With the currently stacked Western Conference filled by teams like the Lakers, Clippers, Mavericks, Warriors, Nuggets and Jazz, the Rockets decided to build for the future. In return for James Harden, they received Rodions Kurucs, Dante Exum, four unprotected first-round picks (Brooklyn 2022, 2024, and 2026, Milwaukee 2022) and four unprotected first-round pick swaps (2021, 2023, 2025, and 2027). Then from Indianapolis, they added former all-star Victor Olidipo. This team is built for the future. Oladipo alongside John Wall is an underrated backcourt. Harden was a locker room cancer and the Rockets made the right choice to move on.
Indiana Pacers: A
The Pacers gain an up and coming star in Caris Levert and a 2023 second-round pick from Houston. The Indiana Pacers got rid of Victor Oladipo who has been injured for most of his time in Indiana and is a free agent at the end of the 2021 season. Levert has two more years under contract for only $36 million, which is much less than Oladipo. Levert is not as skilled as Oladipo but is cheaper, younger, and will fit the team and system better than Oladipo ever would.
Cleveland Cavaliers: A
The Cavaliers gave up a late first-round pick in exchange for Jarret Allen and Taurean Prince. Allen is a great young dominant big and Prince is an excellent bench player. The Cavs came the closest to getting the "perfect trade". With guard tandem Darius Garland and Collin Sexland and the addition of 22-year-old star Jarret Allen, the Cavaliers will almost certainly be a playoff team in the upcoming years.
About the Contributors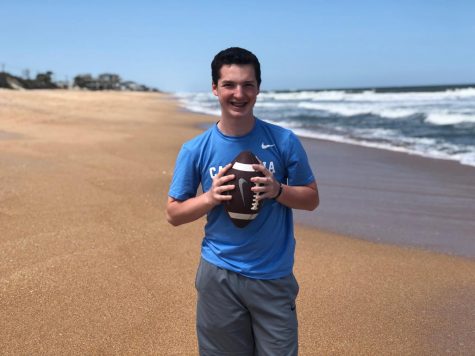 Jack Lotz, Co Sports Editor
Jack is a sophomore at South Lakes. This is his 2nd year as a writer in sports for the Sentinel. Besides writing, Jack plays baseball for South Lakes and...
Cameron Howard, Staff Writer
Cameron is a freshman at South Lakes and in his first year on The Sentinel staff. He is excited to get started in writing for The Sentinel.