Brady vs. Mahomes in Super Bowl LV
On Sunday, February 7th, Patrick Mahomes and the Kansas City Chiefs will take on arguably the best Super Bowl quarterback of all time, Tom Brady of the Tampa Bay Buccaneers. This game will be significant for a few reasons, one of which being that this is Brady's first season with the Tampa Bay Buccaneers, after 20 years with the patriots. Brady's career in Boston is the longest a quarterback has been with a franchise in NFL history. Another reason would be the age gap between the opposing quarterbacks, which is a jaw-dropping 18 year age difference. This statistic gets even crazier when you realize that the year Brady was drafted by the Patriots, Mahomes entered Kindergarten. If that wasn't enough, Mahomes recently signed the largest contract in the history of the NFL, in a $503 million deal with the Kansas City Chiefs. With all that said, this game will be very fun to watch, especially for the Virginians who put down bets on the game now that sports gambling is legalized in the state.
Brady has forever been a Patriot, and most people in New England will say the same, although after 20 years, Brady felt his time in New England had come to a close. When he signed with Tampa Bay, most people thought he would have a horrendous season. There were concerns due to his age, Brady being on a different team for the first time in his career, and a lack of a good enough team around him. One of Brady's best teammates from the Patriots, Rob Gronkowski, had taken the 2019 season off due to injury and was unsure if he would ever make a full recovery and return to the league. Gronkowski was another big piece in the Patriots' Super Bowl runs throughout the 2000's and 2010's. For all 79 career touchdowns that Grownkowski scored, 78 came from that of Tom Brady. These two had visible chemistry on the field, which is how Brady convinced Gronkowski to come play with him and the Buccaneers.
Tom Brady was drafted in 2000 by the New England Patriots and was picked in the sixth round as the 199th overall pick. Mahomes was drafted in 2017, a full 17 years later, in the first round as the 10th overall pick by the Kansas City Chiefs. These two players have very different pasts and found their way into stardom in very different ways. Although these players found success in different ways, they both want one thing: another Super Bowl ring. It would be Brady's seventh ring, which is unheard of in the league. Mahomes would have back-to-back Super Bowl rings three years after being drafted. With that said, Mahomes also makes $45 million annually, which is $10 million more annually then the second highest paid quarterback, just again proving how much his team will spend to keep him on their team, just like the Patriots did to Brady just a few years ago.
From an outlandish 18 year age gap between opposing quarterbacks, to the highest paid quarterback in the history of the NFL, to legal bets that can be put down on the game because of the recent legalization in the state, it's crazy to watch a game with so much history and so many cool statistics within the game. This Super Bowl will be historic no matter what happens. So this Sunday, grab a snack and watch two of the best teams in the league, led by two of the best quarterbacks, face off in the Super Bowl to make history.
About the Writer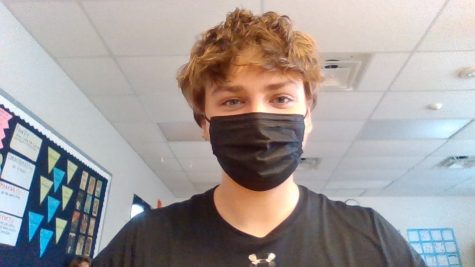 Ryan Ertlschweiger, Staff Writer
Ryan Ertlschweiger is a senior at South Lakes High School and this is his third year being a part of The Sentinel. Ryan plays baseball at South Lakes and...