NFL quarterbacks on the move
With the recent news of Matthew Stafford being traded to the Los Angeles Rams from the Detroit Lions, the time for some teams in need of a quarterback is now. There are still some big names on the quarterback (QB) market including Deshaun Watson and Dak Prescott. If teams miss out on one of those names then they can still get players like Jameis Winston, Mitchell Trubisky, Cam Newton, and Andy Dalton. This offseason is sure to be exciting.
The official start to the offseason is growing near and many teams need to figure out if they're buyers or sellers. Whether teams decide they should trade their quarterback or go trade for one, this is going to be a huge offseason.
Deshaun Watson
Deshaun Watson is by far the most talented QB that will be on a new team come the start of the 2021 season. After spending four years in Houston as part of the Texans organization, Deshaun Watson officially requested a trade on January 29, 2021. Watson was the lone bright spot this year for the Texans, leading the NFL in passing yards and was selected to his third Pro Bowl. Houston got rid of fellow Pro-Bowler Deandre Hopkins last offseason in a puzzling move to Arizona that brought David Johnson to the Lone Star State. Houston finished with an abysmal 4-12 record to land them with the third-worst record in the NFL this season. Mid-year, the Texans fired their coach and General Manager Bill O'Brien, and recently hired Raven offensive coordinator David Culley as their future head coach. Rumors were talking about the Texans and Watson splitting ways before Watson made it official that he wanted out of Houston. Watson is worth multiple first round picks and pick swaps. The Texans will have calls from all over for Watson, and it is only a matter of time before they find one they like.
Possible Trade Partners
Miami Dolphins
QB Tua Tagolovia, 2021 first round pick (3rd overall), 2021 first round pick (18th overall), and 2021 second round pick (50th overall).
New York Jets
2021 first round pick (2nd overall), 2021 second round pick (34th overall), 2022 first round pick, and 2023 first round pick.
Carolina Panthers
QB Teddy Bridgewater, 2021 first round pick (8th overall), 2021 second round pick (40th overall), 2022 first round pick, and 2023 first round pick.
Dak Prescott
As free agent quarterbacks go, Dak Prescott is in a tier by himself. Prescott was on pace for nearly 6,000 passing yards in a season, which would have put him well beyond current single season passing yard leader, Peyton Manning. In Week 5 versus the New York Giants, Prescott broke his ankle. Without Prescott, the Cowboy's offense was in shambles. Ezekiel Elliot had fumbling problems, there were injuries across the O-line and Dallas was forced to start Ben Dinucci and Garret Gilbert while backup QB Andy Dalton faced injuries himself. While the probability that the Cowboys don't re-sign Dak Prescott in free agency is low, there are a handful of teams that would love to sign him. Here are my top three teams most likely to sign Dak Prescott:
Dallas Cowboys
The Cowboys will likely re-sign Prescott and I believe Dallas is the best fit for him.
Washington Football Team
While trading Prescott to a division rival seems unlikely, Washington has money and is a QB away from being a serious super bowl contender.
San Francisco 49ers
San Francisco has battled with injuries all season long and when healthy will be a contender for a Super Bowl again.
Carson Wentz
Carson Wentz went from one of the best young QBs in football to being benched for a rookie late in the season. Drafted number two in the 2016 NFL Draft, Wentz looked like a superstar in the making when he led the Philadelphia Eagles to the playoffs with a 13-3 record. In Week 14 of the 2017 season, Carson Wentz tore his ACL. Backup Nick Foles led the Eagles to the promised land and brought the city of Philadelphia a Superbowl Ring. Wentz was never the same after that, bringing the Eagles to a losing record in two of the next three seasons. Carson Wentz is not a free agent, but there is speculation around the NFL that he may be dealt sooner rather than later. Here are my potential teams for Wentz:
Indianapolis Colts
2021 first round pick (21st overall) and 2021 sixth round pick (180th overall)
Chicago Bears
2021 second round pick (52nd overall) and 2021 third-round pick (83rd overall)
Denver Broncos
2021 second round pick (40th overall) and 2021 third round pick (71st overall)
Mitchell Trubisky
While Trubisky hasn't had the greatest start for a Quarterback, his last season was certainly not terrible. Mitchell Trubisky was the first QB off the board in the 2017 NFL Draft selected by the Chicago Bears with the second overall pick out of the University of North Carolina. The 2017 Draft class had some phenomenal players, including former MVP and Super Bowl champion Patrick Mahomes, three-time Pro-Bowler Deshaun Watson and number one overall pick Myles Garret. Trubisky made one Pro Bowl and has thrown over 10,000 yards in four seasons with the Bears. While Mitchell Trubisky isn't as good as fellow 2017 drafted QBs like Patrick Mahomes and Deshaun Watson, he could be a quarterback in the NFL for years to come. With no chance of him staying with the Bears, here are my picks for where Trubinksy may be headed:
Chicago Bears
Resigning with the Bears would be the best bet for Trubisky, but if Chicago wants to go a different direction I would not be surprised.
Indianapolis Colts
The Colts have a young team and a very good defense and if they could bolster their offense then they could be a threat for years to come.
Denver Broncos
The Broncos have a lot of Cap space if they want to go out and sign a QB to help them compete with top offenses in their division.
About the Contributor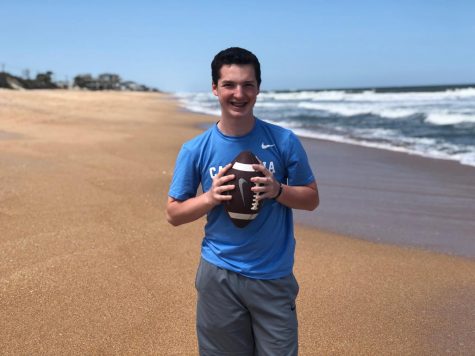 Jack Lotz, Co Sports Editor
Jack is a sophomore at South Lakes. This is his 2nd year as a writer in sports for the Sentinel. Besides writing, Jack plays baseball for South Lakes and...