Redrafting the 2020 NFL Draft
The race to the bottom for the number one overall pick in the NFL Draft ripped the sports media world wide open for months. The 0-13 New York Jets seemed poised to grab it, but two preposterous wins from New York thrust the 1-15 Jacksonville Jaguars into the draft spot. The no-brainer pick by most experts is Trevor Lawrence, the highly touted quarterback out of Clemson. Jacksonville has seemingly found their QB of the future in the Clemson prospect, a former national champion and Heisman Trophy finalist. Some analysts believe Lawrence is not the best choice, preferring Ohio State quarterback Justin Fields. Fields outdueled Lawrence in their College Football Playoff semifinal matchup, a 49-28 smothering of the Tigers by the Buckeyes.
With the NFL season over, I got to thinking about the top 10 picks from this year and how they performed, and if the teams actually made the right call.
Selected: Joe Burrow, QB, LSU
New selection: Justin Herbert, QB, Oregon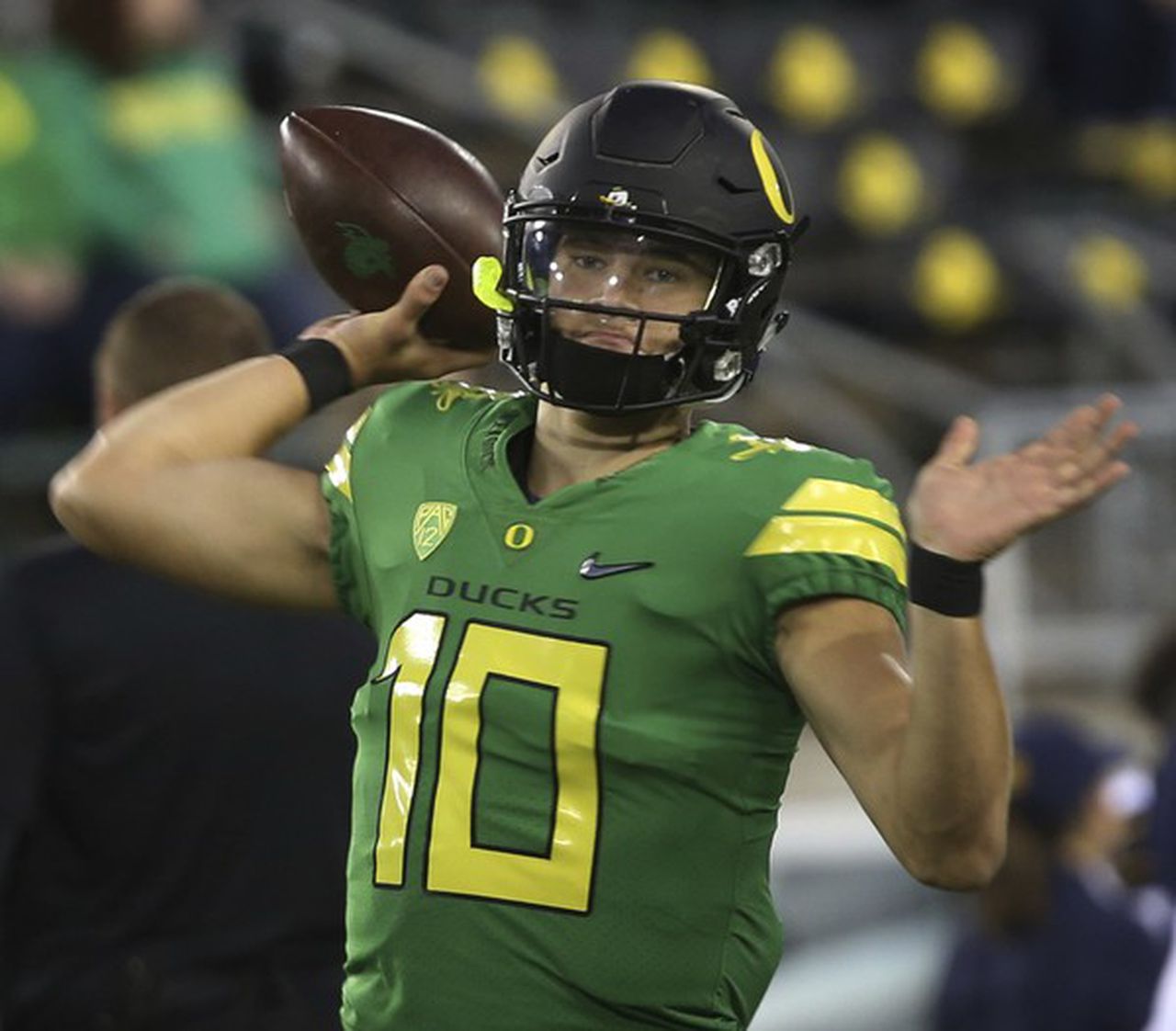 Beginning with the first overall pick, we have a major shift in draft narrative. An Ohio native, Burrow was coming off of an undefeated, record-breaking, national championship winning season at LSU. He was a no-question pick for the Bengals, who had just moved on from longtime QB Andy Dalton. Through eleven games, Burrow threw for 2,688 yards, 13 touchdowns and 5 interceptions and led the Bengals to a 2-6-1 record. A gruesome knee injury in Week 11 sadly cut Burrow's season short, with Brandon Allen and Ryan Finley coming in relief down the stretch.
Across the Mississippi River, rookie Justin Herbert shined as the Los Angeles Chargers' new starting quarterback following an injury to Tyrod Taylor. In 15 games as a starter, Herbert posted 4,336/31/10 (rookie records in yards and touchdowns) and went 6-9 including four straight wins to end the season. The Offensive Rookie of the Year, Herbert demonstrated a mastery of pocket presence and also excelled in the ground attack. With a weaker Bengals offensive line at his disposal than in Los Angeles, Herbert would still work the offense perfectly as a dynamic quarterback rather than a strict pocket passer.
Selected: Chase Young, DE, Ohio State
New selection: Joe Burrow, QB, LSU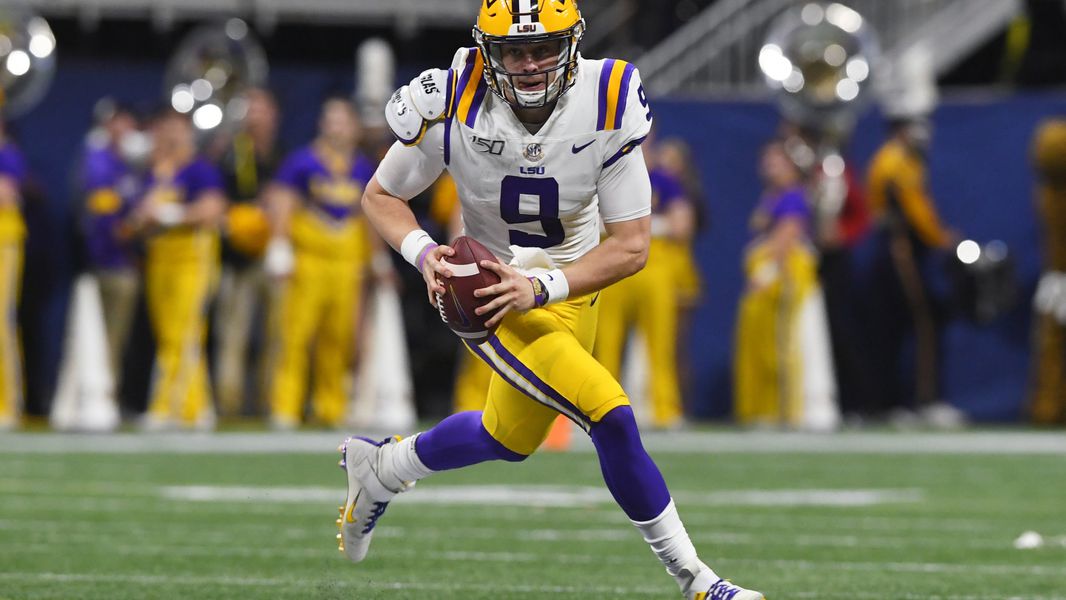 In this reality, Joe Burrow is astoundingly still on the board. Leading up to the draft, Chase Young had remained at a firm 2nd overall to Washington, bolstering an already dominant line led by veteran Ryan Kerrigan, and the younger Jonathan Allen and Daron Payne. With Burrow falling right into their lap, however, Washington leaps at the talented quarterback from LSU. Having shown distaste towards starter Dwayne Haskins, with whom they used the 15th pick on in the 2019 draft, Burrow comes in as an immediate threat. Washington demonstrated that they do not see Haskins as the answer, benching him after Week 3. Following an ugly Week 16 loss, Haskins was released by the franchise, signing with the Pittsburgh Steelers a month later. Burrow can seek tutelage from veteran QBs Brandon Allen and Alex Smith and run a successful offense in Washington, turning those around him such as wide receiver Terry McLaurin into superstars.
Selected: Jeff Okudah, CB, Ohio State
New selection: Jeremy Chinn, S/LB, Southern Illinois
With disgruntled Pro-Bowl cornerback Darius Slay having left in the offseason to join the Philadelphia Eagles, the Lions were looking for his replacement. Possessing an already strong defensive line, the Lions maintain the goal of replacing Slay. While they do not get their corner, Detroit gets one of the most dynamic young DBs in the NFL. Originally a second round pick by the Panthers, Jeremy Chinn was a strong Defensive Rookie of the Year candidate. In his first season he racked up 117 tackles, an interception, two forced fumbles and scored two defensive touchdowns. Okudah, their original selection, only played in nine games this year and put up 47 tackles and an interception. These numbers fail to represent the lockdown corner that the Lions were looking for at third overall.
Selected: Andrew Thomas, OL, Georgia
New selection: Mekhi Becton, OL, Louisville
The fact that the 6-foot-7, 364lbs monster slipped to 11th overall is insane. Becton acted as a key left tackle for the Jets, protecting both Sam Darnold and Joe Flacco. With the temptation of Chase Young on the board, the Giants do not bite, as they value protecting their quarterback of the future Daniel Jones more than adding to a defensive line which houses Dexter Lawrence, Dalvin Tomlinson, and Leonard Williams. Besting Andrew Thomas by four inches and almost 50 pounds, Mekhi Becton helps to protect a fumble-prone Jones. Coming from a similar situation as the Detroit Lions, the Giants pass on Chase Young.
Selected: Tua Tagovailoa, QB, Alabama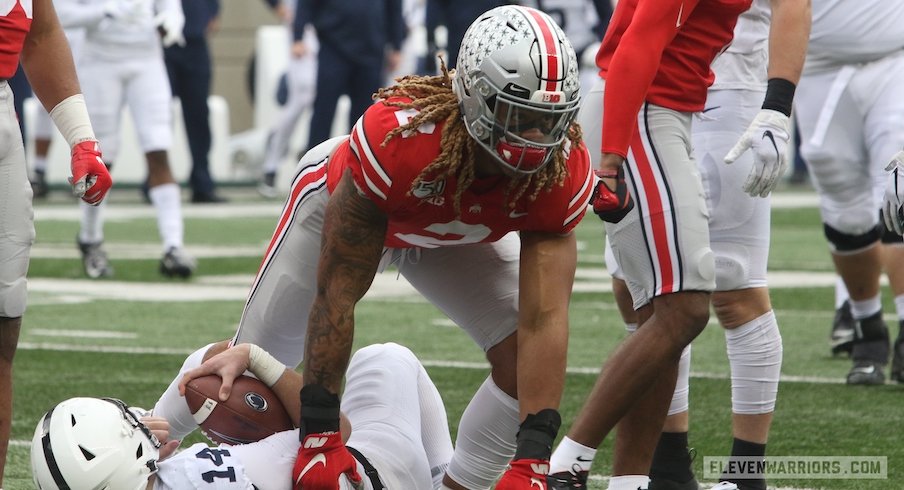 New selection: Chase Young, DE, Ohio State
Chase Young finally goes off the board at five to the Miami Dolphins. Initially drafting Tua Tagovailoa with the pick, a banged up and somewhat weak defensive line adds the Defensive Rookie of the Year. Ryan Fitzpatrick demonstrated that he can act as a reliable option for the Dolphins, as he went 5-3 as the primary QB, the same record as Tagovailoa. Besides, Miami has another pick at 18th overall, which they now used to draft Utah State quarterback Jordan Love, securing their future on both sides of the football. The team continues to ride the Fitzmagic train, with a dominant pass rush and a seasoned veteran for Jordan Love to learn from.
Selected: Justin Herbert, QB, Oregon
New selection: Tua Tagovailoa, QB, Alabama
With Justin Herbert now off the board, the Chargers select Tua Tagovailoa with the 6th overall pick. This goes as a no-brainer for Los Angeles, as they still secure their quarterback for the future. Tua came into the draft with major concerns surrounding his health, having suffered a devastating hip injury in his last game at Alabama just 4 months earlier. The Hawaiian-born passer still originally went fifth overall to the Dolphins. Tagovailoa had a quiet day in his first NFL start, going 12/22 for 93 yards and 1 touchdown along with one fumble against the Los Angeles Rams. His best game came in a 33-27 shootout loss against the Kansas City Chiefs, where he accounted for 340 total yards and 3 total TDs. Tua is still adjusting to being an NFL quarterback, and an experienced Chargers offensive line would help the southpaw rookie learn to become a complete passer.
Selected: Derrick Brown, DT, Auburn
New selection: Patrick Queen, LB, LSU
Patrick Queen is a strong consideration for the steal of the first round, as he initially fell to 28th overall to the Baltimore Ravens. Taking a position held in Baltimore previously by Ray Lewis and C.J. Mosley, Queen entered the season with big shoes to fill. He started off the year with a bang, recording eight combined tackles, a sack and a forced fumble in Week 1 against the Cleveland Browns. Queen amassed 106 tackles and three sacks on the year, along with two forced fumbles, two fumble recoveries, an interception and a defensive touchdown.
Derrick Brown on the other hand has struggled to find his place in the Panthers defense. The rookie out of Auburn did not record a sack until Week 14, and did not break five combined tackles in a game, while playing the majority of defensive snaps every week. Compared with players of the same position such as Javon Kinlaw and K'Lavon Chaisson, Brown failed to really contribute to his team as a whole. With Luke Kuechly's sudden retirement in January, Patrick Queen could have helped a middling Panthers defense. He would fill the position currently held by Tahir Whitehead, who trailed Queen in every statistical category.
Selected: Isaiah Simmons, LB, Clemson
New selection: Same
The Cardinals hit the nail on the head with this pick. Isaiah Simmons was a projected top-5 selection leading into the draft, but dropped to the Arizona Cardinals at 8th. The senior linebacker out of Clemson accrued 104 tackles, eight sacks and three interceptions in his final college season. Simmons was the 2019 ACC Defensive Player of the Year, Dick Butkus Award (most outstanding linebacker), and consensus All American. With an already well-rounded defense featuring Patrick Peterson, Chandler Jones and Budda Baker, Simmons fits his role as a second-string inside linebacker with room to grow.
Selected: C.J. Henderson, CB, Florida
New selection: Justin Jefferson, WR, LSU
There is not much to be said here. Justin Jefferson had arguably the best rookie wide receiver season of all time. The 6'1" LSU product finished with 88 receptions for 1400 yards along with seven touchdowns, breaking Anquan Boldin's receiving yards record which had stood for 16 years. Selected 22nd overall by Minnesota, he filled the void left by Stefon Diggs following his trade to the Buffalo Bills. Henderson on the other hand had a season similar to Jeff Okudah. Only playing in 8 games, he accounted for 36 tackles, an interception and a forced fumble. Jacksonville's leading receiver in 2020 was D.J. Chark, who trailed Jefferson's stats significantly. With the breakout of undrafted rookie running back James Robinson, a Jags team also rostering Jefferson would be a scary sight for the future.
Selected: Jedrick Wills, OL, Alabama
New selection: Same
In a landmark season for the Cleveland Browns, Jedrick Wills was an integral part of the team's success. Allowing 4 sacks as a rookie (T-19th) and leading the NFL in penalties, Wills definitely showed his inexperience. But, what he lacked in discipline he made up for in performance. As the fourth-youngest team in the NFL, the Browns certainly have time to let the young star develop. The talented player from Alabama fits the school's narrative of being a lineman powerhouse and showed that he will be a reliable, long-term option for Cleveland.
About the Contributor
Noah Shubert, News Co-Editor






Noah is a senior at South Lakes and is joining the Sentinel staff as a sports writer and news editor. He has written in the past...