South Lakes' freshman Abby Anderson goes to states for gymnastics
Seahawk Freshman Abby Anderson came in fourth at the VHSL State gymnastics competition in Virginia Beach, during the weekend of February 20, 2021. Although new to high school itself, Anderson has definitely gotten some real experience in the school sports department. Anderson has worked extremely hard this season, dealing struggles with wearing masks while flipping, getting used to new equipment and building friendships with new teammates. She persevered all the way to the state competition!
Anderson shared that she was grateful to have gotten the opportunity to compete at the District, Regional and State competitions despite having to miss some practice due to the season ending. Thanks to her impeccable scores at the Region competition, Anderson got the chance to compete at the State level along with her fellow freshman teammate, Amailia Wyatt. Their coach, Becky Slaight, was ecstatic to be able to take them to Virginia Beach and proud to be there supporting such dedicated gymnasts.
Juggling the school gymnastics season with her outside club season at Chantilly Academy Gymnastics (CAG) was no easy feat for Abby. She noted that balancing the two was "pretty stressful but overall worth it." Although she had to make sacrifices to participate on both teams, her positive experience was never hindered by the inconsistent schedule. She mentioned that "the school team was a bit more lenient with missing practice, which was great for [her] because of [her] commitment to CAG." Anderson did point out that she was happy to get the extra practice on some of her weaker skills with the help of a different coach's perspective. Anderson shared, "Sometimes I used school practice to work on my big skills without my club coaches watching. It helped me to relax while trying harder things."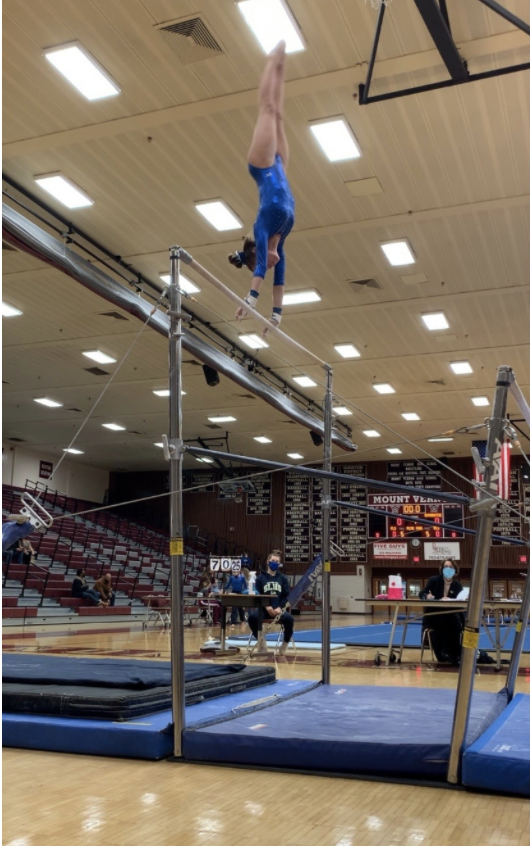 Anderson has been doing gymnastics since she was just six-years- old and hopes to continue at the collegiate level. She dreams of joining the team at George Washington University and studying sports medicine to complement it. The gym has always been her second home, growing up with the same coaches and cultivating friendships throughout the years. She is passionate in expressing herself through her sport and made it clear that it is something she'll never give up. "Gymnastics is my life," she says, "I couldn't imagine what I'd be doing for those extra 18 hours a week if it wasn't for my team!"
In light of the pandemic, Anderson commented on her enthusiasm to be able to still participate, "I have been looking forward to joining this team since I was in seventh grade, and I was so excited when I found out this year's season was still going to happen."
Anderson has found herself astounded at the amount of recognition the school has given her because of this team. Not only has her picture been posted on the Seahawk Booster's instagram account multiple times, but she has been highlighted on the Seahawk Scoop announcements and earned the title of SLHS Athlete Of The Month for January. "It was crazy to hear my name announced to the school and my competition pictures all over social media," Anderson explained. After this past winter sports season, Abby Anderson believes that she's finally a part of the Seahawk community, and not just a new freshman student.
Editor's Note: This piece was written by someone related to the subject.
About the Contributor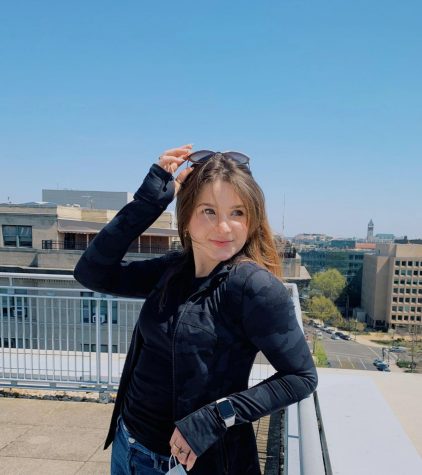 Taylor Anderson, Co-Editor in Chief
Taylor Anderson is a Senior at South Lakes and is the Co-Editor in Chief for The Sentinel. She is a part of the SLHS varsity cheer team, and really dedicates...