Washington Football Team draft targets
With the 2021 NFL Draft a day away, the Washington Football Team is exploring their options on players that could make or break the future of the franchise. The annual NFL Draft is an opportunity for teams to find the next young superstar.
With Washington winning their division last year and losing the Wildcard game, the team got the 19th overall pick in this year's draft. However, teams can make trades in order to move up or down at any point; Washington does not have to necessarily pick at 19. The cost of moving up is huge. Many analysts suspect that Washinton does not choose to trade up or down in the 1st round. That potentially leaves Washington with around seven players that could potentially suit up in the burgundy and gold for years to come.
These targets are based on all likelihood, team needs, personal opinion and preference. 1st round team needs: LB, QB, T, WR, CB.
1. Christian Darrisaw (Offensive Tackle)
The top prospect that the Washington Football Team should be looking into is Christian Darisaw out of Virginia Tech. Darrisaw, a three year starter for the Hokies is exactly what Washington needs. Standing 6 foot 5 inches and 314 pounds, Washington will be getting a top tier weapon on their offensive line. Although Washington had a top seven offensive line last season, security at the tackle position is always at the top of franchise needs. What better way to fulfill that role with one of the draft's best in Christian Darrisaw.
2. Jeremiah Owusu-Koramoah (Linebacker)
Jeremiah Owusu-Koramoah out of Notre Dame should be the next player on Washington's big board. Owusu-Koramoah, won the Butkus Award after his amazing 2020 season. The Butkus Award goes to the nation's top linebacker. Last season, Owusu-Koramoah had 62 tackles (11 for loss) to go along with 1.5 sacks and one interception. Adding the best linebacker in the country to an already top 5 defense could make Washington's defense the best in the NFL.
3. Rashad Batemen (Wide Receiver)
Rashad Batemen climbed the draft boards after his 2019 season. Batemen decided to opt out of the 2020 season to get ready for this year's draft before deciding to join the Minnesota Golden Gophers later in the season. During his sophomore season in 2019 at Minnesota, Batemen had 1,219 yards to go along with 11 touchdowns. Washington is not short of receivers, but having another weapon to take away any attention on Terry McLaurin would help significantly on the offensive front. Washington might not need to take a WR in the first round, but Batemen is too good to pass up.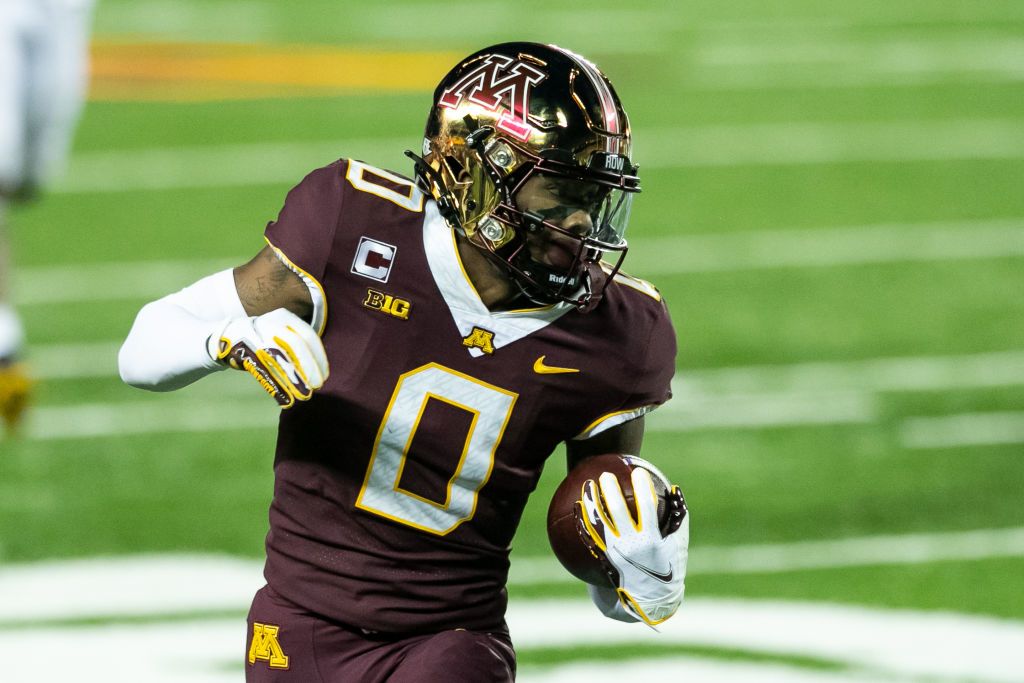 4. Trey Lance (Quarterback)
During the 2020 season, Lance only played one game because North Dakota State, who is in the FCS, decided to play their football season in the spring. Since the draft is this spring Lance would be ineligible to play this season if he wanted to get drafted. So North Dakota State set up a one game fall season to "showcase" Lance's talent. In that game he went 15-30 passing with 2 touchdowns and 1 INT.
His 2019 season is what got the scouts attention. He threw for 2,786 yards which included 28 touchdown passes and zero interceptions. He brings a running attack to his game as well. Lance ran for 1,100 yards that season. Washington could definitely use a mobile quarterback with a strong arm. The player that fits that description is Trey Lance. If Lance is available at pick 19, Washington could find a new franchise quarterback for years to come.
5. Jaycee Horn (Corner)
Washington's secondary looks a bit different after free agency. Ronald Darby signed with the Broncos after a one year tenure in DC. His replacement was upcoming star William Jackson. So Washington has some pieces at the corner, but looking ahead towards the future, this might be Washington's biggest hole. Jaycee Horn was a three year starter at the University of South Carolina. He played a few games in 2020 before opting out to focus on the draft.
Totaling 101 tackles with 2 interceptions is not a bad career. Horn was a lockdown corner for the Gamecocks. His 23 pass deflections lead the SEC. Horn is the consensus 2nd-3rd ranked cornerback in the draft. Sitting at 19, if Horn is there Washington should be prepared to take yet another defensive player on Day 1.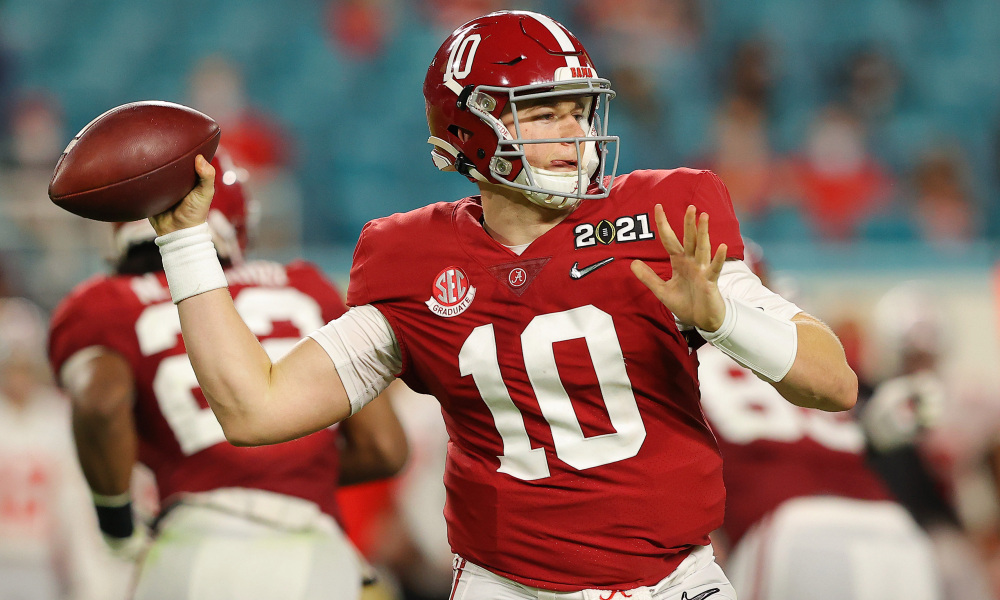 6. Caleb Farley (Corner)
The number one concern with Caleb Farley is his long list of injuries. When he is on the field, he makes a case for being the best cornerback in the draft. But the amount of missed games is holding his draft stock back since no team wants to risk their 1st round pick on an injury prone player. In his one full year playing as a cornerback , Farley was an All-ACC Player. He had 20 tackles to go along with 2 interceptions in his redshirt sophomore season. When Farley is on the field, he is dominant. But unfortunately, Farley's injury concerns are what stands out the most when evaluating him. However, at pick 19, no one would be surprised if Washington takes a risk on Farley to bolster their secondary.
7. Mac Jones (Quarterback)
Washington is in some desperate need of finding a franchise quarterback. Mac Jones out of Alabama may be the only quarterback there at pick 19 that is worth taking. Mac Jones was a one year starter at Alabama. That one year made Jones go from an undrafted player to a future first round pick. Jones threw for 4,500 yards and 41 touchdowns, which led to a National Championship during his one and only season as the starting quarterback. Jones has great arm talent and great ball placement. However, Jones lacks mobility and pocket awareness. It could take a few seasons to develop into a starting quarterback in the NFL. Jones has shown great glimpses of being an NFL starter.
If a team that is not in desperate need of a quarterback and is willing to develop a quarterback, Jones will be taken; it is possible to see Washington as one of the few teams that have the capability of taking this prospect. Just like Caleb Farley, it is a risky pick to take these kinds of players on day one, but when you see the flashes of greatness on tape, it is hard to pass up.
Washington will have plenty of options to choose from when they are on the clock Thursday night. For now, fans will just have to wait and see which player Washington will take in order to strengthen the future of the franchise.