Ride On! South Lakes Students Explore Unique Sports through Horseback Riding
In most sports, collaboration and teamwork are staples regardless of the arena. Arguably, there is no sport that requires the same amount of trust and partnership as horseback riding. The sport has grown in popularity in recent years, culminating in six events related to horseback riding being added to the 2020 Olympics. Between the rider and the horse, there are so many intangibles that are included in each movement, regardless of the discipline. When most Americans think about the sport, the majority notice their mind drift to the Midwest as the majority of equestrians hail from that region. However, two South Lakes seniors both have exceptional horseback riding skills and they are not alone as South Lakes has a large number of riders in the student body.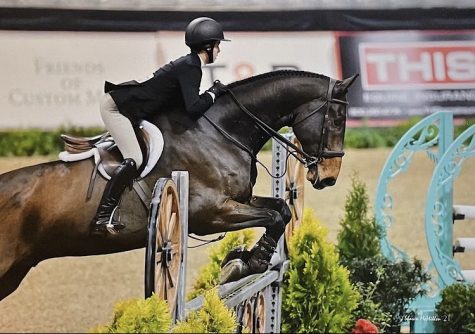 Emilia Cayeli has always had a love for horses. It all started when her uncle bought her a stuffed animal horse when she was young. She latched onto the horse, and as a byproduct, she finds herself where she is today. As for the future, she does not hold any reservations about continuing to ride, although she would have no aspirations to go professional. "I always want to ride, but I think that the professional route is not something for me. Moving forward, I know that I want to own a horse, but I think that I will go wherever riding takes me," Emilia explains.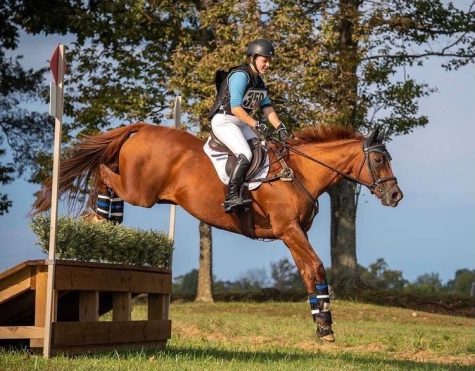 Lily Mutzig, another senior, has been riding for years, much like Emilia. Unlike Emilia, though, she focuses on different disciplines and really has a vastly different experience in the sport. Her beginnings, though, are just as random. "I started by riding a horse at a birthday party when I was little and I just kept asking to go to lessons. It was something that I really didn't think of as a huge deal when I first started, but it has become a huge part of my life," she explains.
Emilia specializes in "hunter" for her discipline. Simply put, this is the action of maintaining control over the horse as well as the rider's appearance over the course of various jumps and obstacles. Lily competes in the discipline known as eventing. Lily goes on to compare it to a "horse triathlon". She says that it includes dressage, show jumping and cross country. "Basically, I get scored differently based on which part of the discipline I'm doing. In dressage, I am scored on how well I do each movement with the horse as well as how well the horse handles everything. In show jumping, it is how smooth the horse looks during the jumps on the course. Finally, cross country is when the horse is doing more natural movements in nature, so it is scored similarly to show jumping, just in a natural setting," Lily details.
The most intriguing thing about horseback riding in the Northern Virginia area is the area itself. Northern Virginia is one of the largest urban areas in the entire state, meaning there is not a ton of room for barns. Therefore, riders are forced to outsource their riding to other areas of the state. Emilia explains the conundrum of living in Reston while riding, saying, "Living in Reston, it just means that (riders) have to travel to their competitions. For me, the closest ones are an hour and a half away in Culpepper, VA and Lexington, VA. It is a little difficult, but my barn is just a half hour away in Leesburg which is better than a lot of them that are in Middleburg, VA." Similarly, Lily's barn is not exactly local to Reston. Located miles upon miles away, she is forced to trek to her horse in order to practice or even see her horse.
One thing that really separates the entire sport of horseback riding from other activities is the obvious fact that the rider is reliant on another being to perform. On top of the apparent lack of control over the main part of the activity, Emilia details the toughest part of equestrianism, "The fact that (you) are riding an animal and that there are good days and bad days that go along with that are not easy to deal with at all. (You) have to be flexible and know that one day at a competition, the horse will be in a bad mood and not want to perform. It is not the horse's fault, but it is a living creature, so it is not going to be perfect. There will be mistakes and they aren't necessarily (the rider's) fault. The rider just has to accept it and move forward and adapt as well as possible." Emilia notes that her horse, Kelso, who is named after Ashton Kutcher's character on That 70s Show, does a tremendous job and that she loves riding with him because of their long, successful relationship.
For Lily, she feels like when everything culminates in success is where she finds her motivation to continue to improve her skills, saying, "That one practice where everything clicks and the horse and rider are in sync is the best part about riding for me." On the contrary, she likes to believe that the toughest part of the sport is the cutthroat, all or nothing nature. "Regardless of the weather, physical conditions, riders have to ride every single day. It is a year round thing, and that is something that a lot of riders struggle with especially as a high schooler and having other things in life. Like for example, I am taking a lot of IB classes and they take a lot of time and effort, so going to the barn everyday makes me learn to balance everything," Lily elaborates.
Through the years, the entire landscape of riding has changed. The sport made an appearance in the Olympics, solidifying it as a true sport that has more importance than The Kentucky Derby or doping scandals. The entire region of the Mid-Atlantic has truly embraced the sport of equestrianism. South Lakes has followed suit as numerous students are involved in the greatest combination of animals and humans in the sporting world. Luckily for the community, the equestrian community will only continue to grow, giving many people a positive outlet for their competitive nature and passion for animals.