Washington Football Team Announces New Permanent Name
On Wednesday, February 2nd, 2022, the Washington Football Team announced their new permanent team moniker. The new name was the Washington Commanders. This was a process that was two years in the making after the name "Redskins" was retired in 2020. Washington was referred to as the "Washington Football Team" for the last two seasons.
Owner Dan Snyder, his wife Tanya Snyder and Team President Jason Wright were on stage as the team announced their new name. Dan Snyder, said when announcing the name, "A secret no more. We are the Washington Commanders!"
Before the official announcement, fans were already discussing the possibility of Commanders being the new team name. There were mixed opinions about the new name. Some fans were in favor of the name, citing that it had a good reference to the military. Others were not fans of the name. Those fans were either still upset about the name change of "Redskins" or were just in favor of the name Commanders.
Other names that the team were considering were: Washington Redwolves, Redtails, Defenders, Redhogs, Hogs, or keeping the Washington Football Team. There were countless trade marks against most of these names which lead to the name Commanders being chosen.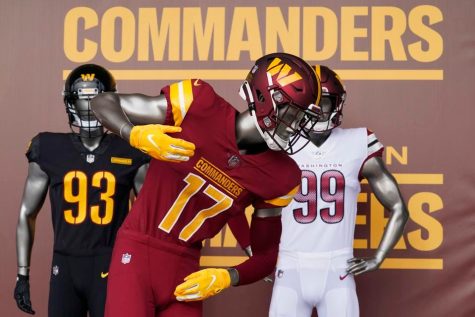 Along with the name, the Commander's announced new uniforms, helmets, logos, and a uniform badge. They announced a new alternate black and yellow uniform, a new road white uniform, and a new home burgundy and gold uniform.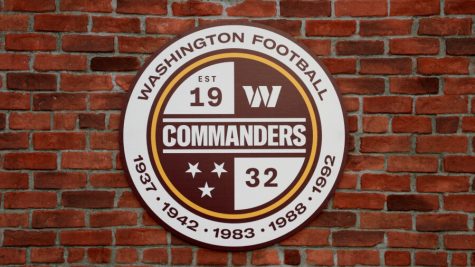 The new uniform badge/logo is a circle crest. At the top is the new franchise name. The diagonal "1932" is when the franchise was born. And the stars are a nod to the United States military. The numbers on the bottom are the years that the franchise has won NFL Championships. Three of those dates have been super bowl wins: 1983, 1988, and 1992. The other two dates were championships pre-Super Bowl era: 1937 and 1942.
All in all, it was a successful rebrand for the Washington franchise. A new name, logo and uniforms signal a new beginning in the nation's capital.