2022-23 College Football Preview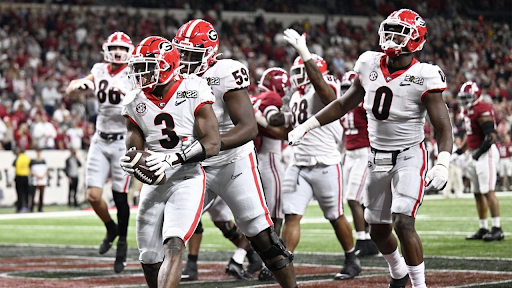 The NCAA college football season is set to kick off this Saturday all across the country. Storied rivalries will be renewed, inter-conference play will begin, and neutral site games headlining the countries best teams and more will all begin Labor Day weekend.
Week 1 will begin on Thursday, September 1st, with West Virginia vs Pittsburgh headlining the games that evening. West Virginia vs Pitt is just one of many rivalries that will be once again renewed this weekend. The rivalry dubbed "The Backyard Brawl" dates back to 1895. These schools have not met since 2011, with West Virginia beating the Panthers 21-20. Pitt currently leads this all time series 61-40-3. The game on Thursday night, in the city of Pittsburgh, will be the 105th meeting between these schools.
Saturday morning will begin with ESPN's College Gameday visiting Columbus, Ohio for Notre Dame vs Ohio State. This is a top 5 matchup between the two schools with the Buckeyes being ranked second to start the season and the Fighting Irish coming in at the five spot.
There are multiple players headlining this game that are Heisman hopefuls including Ohio State Quarterback C.J Stroud and Wide Receiver Jaxon Smith-Njigba. The tandem had 1,606 receiving yards last season along with 9 touchdowns. Smith-Njigba was the learning receiver on the Buckeyes last year even with top draft picks Garrett Wilson and Chris Olave going to the NFL. The Buckeyes will look for another national championship title this season and it starts with a test against the 5th ranked Notre Dame Fighting Irish.
This will be the first game at the helm for head coach Marcus Freeman. He is taking over for longtime head coach Brian Kelley, who took the head coaching job at LSU. It will be one of the toughest road tests all season for any team as they are going into Columbus at night. Tyler Burcher, the Redshirt Sophomore from San Diego, will be making his first career start in this game. In his career, he has thrown for 298 yards and has a 3:3 touchdown to interception ratio.
The Georgia Bulldogs, the defending national champions, will open up their season against the Oregon Ducks. This will be a neutral site game played in Atlanta, Georgia. Essentially, this is a home game for the Bulldogs as the game will be played in Atlanta, home of the Falcons. The Bulldogs are 17 point favorites and are looking to become the first team to win back-to-back national titles for the first time since Alabama in 2011-12.
Speaking of the Crimson Tide, they will open up their season at home against Utah State. They are 41.5 point favorites and have a 99.3% chance of winning according to ESPN's power index. Heismen hopeful QB Bryce Young and LB Will Anderson will look to get their seasons off to a roaring start against a non-power five school.
A season-shaping Week 1 will kick off this weekend. One loss would end a lot of these teams' hopes to get into the playoff. It all starts on Thursday night and runs through Labor Day weekend.