SLHS Field Hockey Update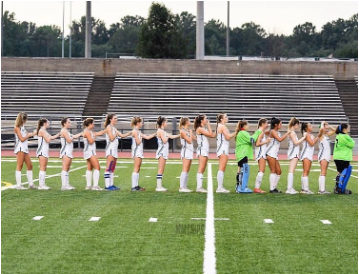 The fall sports season is underway, and while the South Lakes athletics program has done very well for itself so far, nobody has had as much success as the girls Varsity Field Hockey team. Currently ranked 14th in the nation (reaching as high as 1st this season), the team boasts a strong 11-0 record, going 6-0 in regional play. The team, currently first in the Concorde district, has been dominant on offense, scoring an average of nine points per game and 3.5 goals per game, both well above the national average. The scoring attack has been led by Senior Resse Otwell, who leads the team in goals with 10, as well as points with 28 on the season. On the defensive side, the team has been fantastic as well, keeping every opponent this year to one goal or under.
Recently, the team has continued its success. In the past two weeks, South Lakes is 4-0 with big wins against regional opponents. They managed to pull out wins against Chantilly, Westfield, Madison, and Oakton, out-scoring all teams 12-3. Two notable performances from that stretch came from Seniors Resse Otwell and Sarah Leaf both of whom racked up three goals in a single game. Otwell scored three in South Lake's 5-1 win against Chantilly, while Leaf's points came in a 3-1 victory against the Madison Warhawks. The team hopes to maintain this scoring efficiency through the final stretch of the season.
On Wednesday, South Lakes Field Hockey celebrated its senior night with a game at home vs. Oakton High School. Prior to the game, seniors from South Lakes were honored on the field for their hard work and commitment throughout their four years of High School. The teams then took the field, where the Seahawks put together an impressive 3-1 win against the Cougars, with senior Sarah Leaf scoring two goals and junior Mackenzie Kingswell, picking up the extra one. South Lakes ends their season with three regional matchups, starting with Westfield on Friday, October 7th and ending with Centerville on the 13th. Come show support, as the Seahawks look to close out this historic season!