Dan Snyder Looking to Sell the Washington Commanders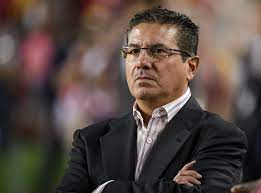 Amid a new controversy, Washington Commanders owner, Dan Snyder, has hired a banking agency to explore selling his team. An ESPN report came out claiming that Snyder and the Commanders are being investigated for misusing funds. In addition, Snyder has an ongoing congressional lawsuit stemming from over 50 allegations of workplace harassment, which has seemed to back him further into a corner and force his hand into looking into the sale of the Commanders.
Ever since Snyder bought the team in 1999, the Commanders have had minimal success, winning just one lone playoff game in Snyder's 23 year tenure. Whenever Snyder seemed to make decisions for the Commanders, those decisions seemed to turn out poorly. Examples of this are the terrible contracts he gave to Deion Sanders, Bruce Smith, Jeff George, Donovan McNabb, Josh Norman, and most famously, Albert Haynesworth. The Albert Haynesworth signing is widely considered one of the worst signings in NFL history. He was given a seven year, 100 million dollar contract, one of the biggest defensive contracts of all time at the time. He only played two of those seasons before being traded.
On the business end, Synder has also struggled. FedEx Field, the Commanders' stadium in Landover Maryland, is widely ranked as one of the worst stadiums in the NFL. The stadium seems to be falling apart as last season a guardrail collapsed at the stadium, causing four injuries. Earlier in the year, a sewage pipe burst, leaking sewage water onto fans. With all of these problems at FedEx Field, Snyder has done nothing to solve them. With all of these issues at FedEx Field, plus the Commanders lacking much success, attendance for games rank the second lowest in the NFL. Even with little attendance, Snyder refuses to drop ticket prices.
Because of all of these problems, many Commanders fans have wanted Snyder to sell the team for years. Recently, at Commanders home games this season, chants from the Washington faithful have pleaded for Synder to sell the team. Synder has tried to silence these chants, but failed.
With Synder being out of favor with the majority of Commanders fans, as well as having many investigations and lawsuits on him, it seems to be Snyder's best interest to sell the Washington Commanders.