South Lakes field hockey's winning season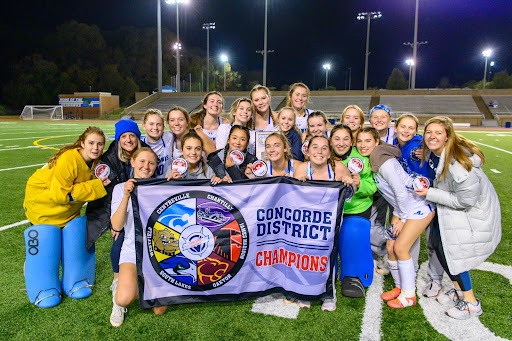 South Lakes field hockey had an exceptional season with an outstanding overall record of 20-2. The Seahawks went undefeated in the regular season going 16-0 with a fantastic 10-0 record in district play. Junior Mackenzie Kingswell led the team in goals with 18, followed by senior Sarah Leaf with 14, and Reese Ottwell with 13. Ottwell also led the Seahawks in assists with 11, followed by Sarah Leaf with eight, and freshman midfielder Anna Harris with six. Goalie Amelie Beckett had a total 111 saves on the season and was awarded first team all state honors. Seahawks Reese Ottwel and Sarah Leaf, were both awarded second team all state honors.
While these honors and stats are very impressive, the Seahawks had amazing energy throughout the whole year. Freshman midfielder Anna Harris stated, "Our team had a different mindset from other teams in our district, we had an aggressive mentality based on scoring and pushing forward towards success."
Along with fantastic players South Lakes also had a fantastic coach, Lisi Mueller. Mueller was awarded with Concorde district coach of the year. "Our overall team goal was to win districts and to specifically beat James Madison because they eliminated us last season, our very first practice coach Lisi sat the team down to discuss our team goals and we established we wanted to win a district championship," Harris stated.
A major turning point in the season was after a 2-1 victory over Marshall High School. Harris said that, "This game was our first real challenge and was our first game before district play. This game really showed me the potential and fierce mentality that our team possessed." The Seahawks won in comeback fashion, scoring two goals in the fourth quarter to give them the win over Marshall.
South Lakes faced off against Madison in the district championship game winning 3-2. "This was our most intense game, both teams were playing with high energy and intensity, the crowd brought lots of energy and really helped us persevere to the win. Once we scored our third goal we could feel the defeat in Madison's soul. After the game it was a huge team accomplishment and we achieved our season goal," Harris said.
The Seahawks had a magnificent season and can't wait to try to repeat next year. "We really fed off energy from our supporters and fans, whenever more people show up we play better," Harris commented. South Lakes field hockey was ranked as high as first in the state and country for the first time in school history. This was also the first time South Lakes field hockey has won a district championship since 1983.