New owners and old players: Washington Nationals offseason update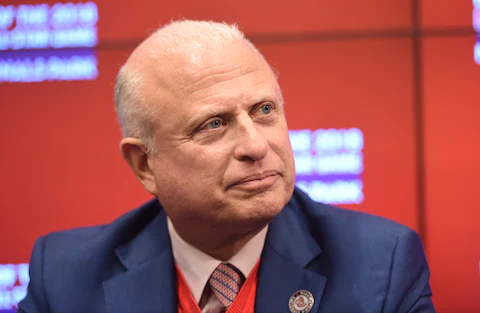 As the MLB's annual Winter Meetings approach, the Washington Nationals look to add a few supporting pieces in the midst of their rebuild and possible ownership change.
Coming off a league-worst 55-107 record, the Washington Nationals aren't expected to make any high profile signings this year. However, this offseason could prove important for Washington's multi-year rebuild, as they look to add a few complementary pieces to their young and developing roster. Washington began the offseason by signing longtime National's reliever Sean Doolittle to a minor league deal. While Doolittle's numbers have dwindled significantly in recent years, his presence in the system will add much needed bullpen depth and stability within the organization. Washington followed up this move with a string of roster cuts, releasing Erick Fedde, Tommy Romero, Luke Voit, and declining Nelson Cruz's 2023 mutual option.
Recently, Washington signed third baseman Jeimer Candelario to a one-year, $5 million deal, continuing their extremely prevalent trend of signing veterans to short-term contracts. While in Detroit, Candelario led the league in doubles with 42 during the 2021 season. However, he posted mediocre numbers during the 2022 season with a .217 average, 50 RBIs, and only 13 home runs. While this is by no means a monumental signing, Candelario will add a nice veteran presence in the locker room and provide a cushion for third baseman Carter Kieboom, who will be returning from Tommy John surgery.
While Washington has made a few minor tweaks to their roster so far, the main story line surrounding them this offseason has been the organization's potential shift in ownership. After their triumphant World Series win in 2019, the Lerner family seems to have lost all interest in running the organization. Selling all their stars, including Max Scherzer, Trea Turner, and Juan Soto, the front office has stripped the team down completely, leaving only promising young prospects who the organization hopes to develop over the next few years. However, this is a project the Lerners seem to be uninterested in, as they have reportedly been withdrawn from front office decisions and have openly made efforts to sell the team.
Ted Leonsis, CEO of Monumental Sports & Entertainment, as well as the owner of the Washington Capitals and Washington Wizards, has emerged as the frontrunner to purchase the team. Leonsis is generally well liked in D.C. and is a well respected owner within the leagues he is involved in. He has also had plenty of success with his current teams, including a Stanley Cup win in 2018 with the Washington Capitals and five playoff appearances with the Washington Wizards during his initial 10 years of ownership.
Recently, Leonsis received a $300 million investment in his company MS&E from billionaire entrepreneur Jeff Skoll. While there has been no official statement regarding the nature of the investment or Skoll's potential involvement in the purchase of the Nationals, the investment comes at an interesting time, as the Winter Meetings approach and the Learners reportedly hoped to complete a sale of the team before the end of November. While that November deadline has passed, the recent investment from Skoll as well as comments made by Leonsis and the Learners signal that the organization is still very much open for purchase, and with the Winter Meetings approaching, that sale could happen very soon.
MLB's Winter Meetings are set to be held in San Diego starting on December 4, and continuing through December 7. As far as the roster is concerned, look for Washington to add a few veteran pieces and build overall depth within their organization. More importantly however, be on the lookout for front office shifts, as these Winter Meetings could very well mark the beginning of a new era for baseball in the Nation's Capital.