South Lakes soars over Herndon basketball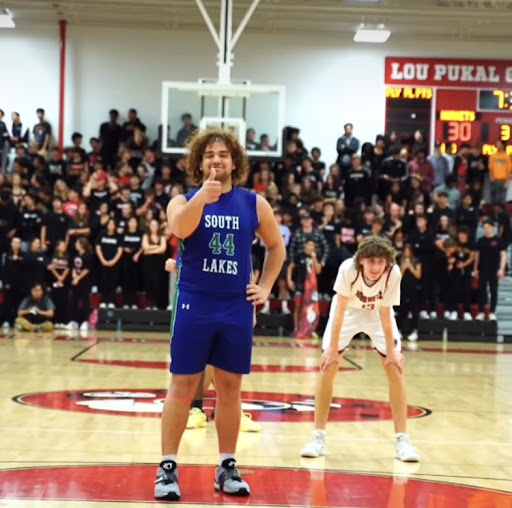 The South Lakes Seahawks boys varsity basketball team continues to fly after a decisive win over the Herndon Hornets this past Friday.
With two wins to their name against Herndon's zero, the Seahawks were expected to dominate this highly anticipated cross-town matchup, and with starting forward Aiden Billings returning to the lineup, South Lakes' confidence was high. However, as things got underway inside the Herndon High School gymnasium, the game appeared to be more evenly matched than anticipated. Led by precise shooting and efficient drives, the Hornets jumped out to a 20-18 lead at the end of the first quarter.
Despite a disappointing defensive start, the Seahawks attacked early, with a steal from guard Sol Vita leading to a fast break layup from Billings to start the second quarter. Followed quickly by a steal-and-score from guard Jordan Scott, South Lakes' strong defensive effort propelled them to a 35-30 lead at the end of half.
However, the Hornets came out of the half firing, out-scoring the Seahawks 18-16 in the third quarter, cutting the lead down to three headed into the fourth.
Now leading 51-48, South Lakes opened the quarter with a three-pointer from Scott, extending their lead to six. Followed by back to back steal-and-scores from Vita and guard Brian Kennedy, the Seahawks put some distance between themselves and the Hornets, out-scoring them 28-13 in the fourth quarter; closing out the game with a 79-61 victory.
Led by a dominant 30 point, six rebound performance from Billings — coupled with a whopping 16 total steals and 34 rebounds — South Lakes grabbed a much deserved win against the Herndon Hornets, finishing another chapter in the teams' historic rivalry.
The Seahawks look to stay hot as they face off against the Wakefield Warriors at home on December 13th.