This time last year: Washington Commanders change their name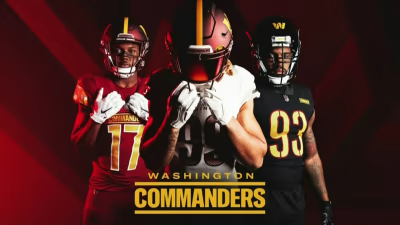 After two full years of not having a name, last year Washington finally found one for their football team. On February 2, 2022, it was officially announced that the Washington Football Teams new name would be the Commanders. In 2020, it was decided that Washington would need to change their name from the Redskins, a name they have had for 87 years because of its history of being a racist term against Native Americans.
Many names were in contention of being used but eventually were not. Names like the Presidents, the Red Wolves, and the Armada were all announced as finalists for the name by co-owner Tanya Snyder in October 2021. Many names the Washington team was looking at were submitted by fans. Other names in contention were the Defenders, Brigade, and Red Hogs.
Also unveiled on February 2 were the Commander's new uniforms. Washington unveiled three uniforms: an all-white set with burgundy numbers and sleeves that have a black stripe sandwiched by white and burgundy, an all-burgundy jersey with gold numbers and sleeves that have a thin white stripe in between two gold stripes, and an all-black one that has gold numbers and a patch on the side with two burgundy stripes and three burgundy stars on a gold background. The black jerseys use a black helmet with gold numbers on the side and a gold W on the front. The other two feature a burgundy helmet with a gold W on the side and a gold stripe down the middle.
Hopefully, Washington can use this name change to start a new culture. The past few years Washington has been involved in many scandals including allegations of sexual misconduct, workplace harassment, creating a hostile workplace, and sending false ticket revenue information to the league. Because of all of these scandals, Dan Snyder and Tanya Snyder began looking to sell the team just nine months after unveiling their new name for it. After mixed results when the name was announced, the name has seemed to grow on people, which has been a small positive for a team full of negatives.