Wildcard Weekend Recap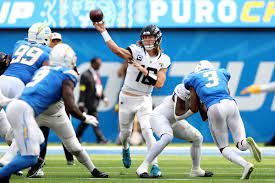 Super Wildcard weekend certainly lived up to the hype that was anticipated. Out of the six games, four of them were one possession games. There were not many upsets spread wise, but the favorites were held to close games.
The first game of the weekend was in Santa Clara, California with the Seahawks taking on the 49ers. At halftime, the seven seeded Seahawks were on top of the second seed 49ers 17-16. The second half was a different story however, with the 49ers winning the game 41-23 and advancing to the Divisional Round of the playoffs. 49ers Quarterback, Brock Purdy, threw for 332 yards and scored four touchdown passes.
The second game of Wildcard Weekend was the Jacksonville Jaguars and the LA Chargers. Trevor Lawrence in the first half threw four interceptions and three of them got picked by Asante Samuel Jr. The Jags pulled off the third biggest comeback in playoff history by coming back 27 points. They outscored the Charger 25-3 in the second half and took the win with a game winning field goal.
The Bills first playoff matchup was against the injury-riddled Miami Dolphins. With starting quarterback Tua Tagovailoa out due to a concussion, rookie quarterback Sklyer Thompson started his first career playoff game. Bills Quarterback, Josh Allen, threw for 352 yards and 3 touchdowns. His two interceptions were not near as costly as the Bills escaped with a narrow 34-31 win over Miami.
In Cincinnati, the Bengals played the Baltimore Ravens. Ravens star quarterback Lamar Jackson was out with a knee injury so it was Tyler Huntleu who drew in. Despite the loss, the Ravens did hold their own against Joe Burrow and Jamar Chase with the score being a one possession game. With the score being tied at 17, Tyler Huntley was on the 1 yard line and fumbled the ball. The Bengals defensive end Sam Hubberd took the dropped ball and ran it back for a 99 yard touchdown. That play ultimately decided the game with the final score being Bengals 24 and the Ravens 17.
The next round of the NFL playoffs will kick off this weekend. The Jaguars will be traveling to Kansas City, and the Eagles will be hosting the Giants. On Sunday, the Bills will welcome the Bengals, and the Cowboys will travel to San Francisco to take on the 49ers.