South Lakes Boys Soar Over Warhawks in District Championships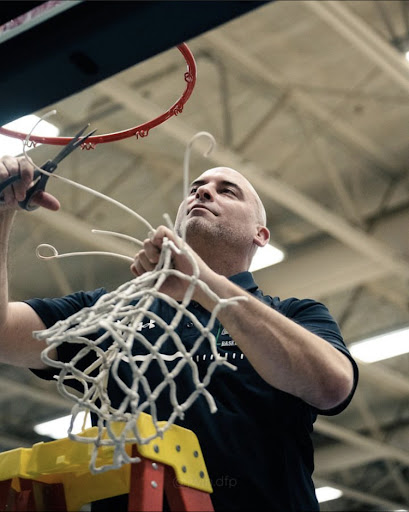 After a fantastic regular season — finishing with an undefeated record in the Concord — South Lakes boys basketball capped off their remarkable run with a district championship over the Madison Warhawks last Friday night.
Despite two wins over Madison earlier this season — both by 18 or more points — the Seahawks struggled early, finding themselves down at the end of both the first and second quarter. The Warhawks dominated the scoring early, shooting 49% from the field versus South Lakes' 30%. Seemingly unable to stop Madison's relentless scoring or find a rhythm of their own, the Seahawks fell to double digits heading into the fourth quarter.
Things were looking grim for South Lakes, as the Warhawks average six more points than the Seahawks in the fourth quarter and started the period true to form. However, after two quick buckets from Madison, the Seahawks kicked into gear, tying the game with two minutes left on the back of sophomore forward Jordan Scott and junior guard Brian Kennedy. With a minute-thirty left in the game, Kennedy banged a three from the top of the arc, putting South Lakes up three. After a steal on the other end, the game was essentially sealed. Madison, forced to foul, was put away by clutch free throws from Scott and junior guard Tyler Andre. At the buzzer, the Seahawks led 62-58, bringing the district trophy back to South Lakes.
This is South Lakes' second district championship since entering the Concorde district in 2021. The Seahawk boys will be back in action in the regional tournament as they look to bring home another trophy. With another regional championship, South Lakes would cement themselves as one of the most dominant teams in Northern Virginia.