South Lakes boys basketball back-to-back regional champions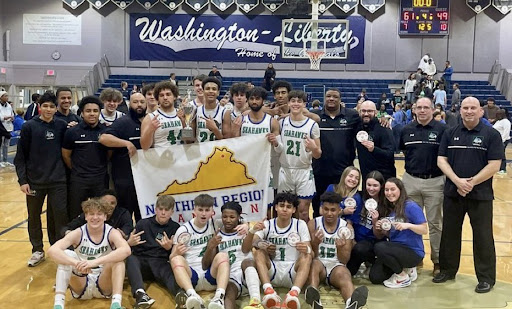 After an undefeated record in district play, and winning the Concorde district championship, the South Lakes Boys Basketball team continued their hot streak against their rival Madison, winning the Regional Championship. This is now back-to-back Region Championships for the Seahawks.
South Lakes started off their regional tournament in the quarterfinals against Langley putting up 67 points en route to a 32-point victory. The Seahawks next victim was the Washington-Liberty Generals where South Lakes rallied in the second half to a 71-55 triumph. South Lakes' defense proved to be a force to be reckoned with all season, but especially against Washington-Liberty which included collecting 13 steals and two blocks.
South Lakes traveled to a neutral site to face off against Madison for the fourth time this season for the Regional Championship. The Seahawks got off to a flaming hot start as Region Player of the Year, Jordan Scott scored the first seven of his 29 points to begin the game. The Madison Warhawks fought back and tied the game up heading into the fourth quarter. However, the Seahawks persevered and made clutch free throws to put the game away and secure their second straight Region Championship. Forward Aiden Billings, Junior guard Brian Kennedey and sophomores Jordan Scott and Sol Vita proved to be an unstoppable force and dynamic team throughout district and regional play as they look to win the first boys basketball state championship in school history.
South Lakes won their second regional championship in as many years since they joined the Concorde district. The Seahawk boys will be back in action in the State tournament against Thomas Edison High School as they look to bring another banner and trophy back to South Lakes.