Heung-min Son reaches 100 premier league goals
Heung-min Son has become the first Asian soccer player to join the Premier League's '100 Club' after scoring his 100th goal against Brighton on Saturday. The goal was a stunning strike from outside the box and into the top right corner. Son celebrated alongside all of his teammates on the field, and his achievement was warmly celebrated by fans across the globe.
"This was something that I dreamed for. It is an amazing achievement which I wouldn't have had without my teammates. Scoring 100 goals in the Premier League is a massive thing," Son explained in an interview.
The South Korean superstar has certainly left his mark since joining the Tottenham Hotspurs FC in August 2015. He was last season's golden boot winner and has been the Asian soccer player of the Year for eight consecutive years. "I hope all the Asian players— especially in South Korea – look at this achievement and believe they can do it as well. It's a good thing for Asia and I take a big responsibility to be a good example to help the young guys. I want them to believe an Asian player can do amazing things in the Premier League," Son stated in a post-match interview.
Son explained his special goal celebration where he lifted his finger and looked at the sky and stated, "I was really emotional because I have had tough moments in the last few weeks. My grandad passed away and it was not easy. I want to send that goal to him."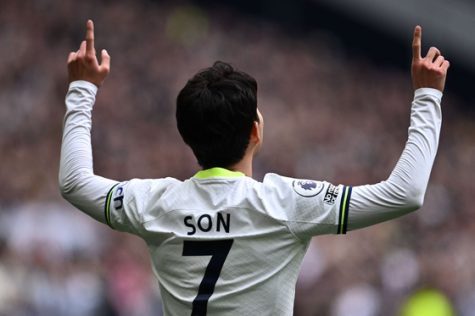 Son has had a tough season after dealing with a fracture to his left eye socket in November, and only scoring seven goals. Son acknowledged his performance this season in an interview and said, "I'm the most frustrated guy and player but I see where I can improve…I am frustrated but I'm not the perfect player so I need to look at my weaknesses. The fans are supporting me and I need to take a big responsibility to do well for the rest of the season."
Son was later named the player of the match on Saturday for his outstanding goal and performance throughout the game. He is now the 34th player to enter the Premier League '100 Club' and remains an inspiration to all of his fans with his talent and humble character. This is certainly not the last of Heung-min Son, and with nine matches left in the season, Tottenham fans hope he'll pull through with more goals to push the team up the table.