Coco Gauff and Novak Djokovic have won the 143rd US Open and the final Grand Slam of the year. The tournament kicked off in New York City on August 28 with its final match on September 10 at Arthur Ashe Stadium. The tournament saw 128 players in each singles draw battle it out for the title.
This year's women's final saw Aryna Sabalenka (no.2) and Coco Gauff (no.10) face off in a dramatic final that took place on Saturday, September 9. Sabalenka dominated the first set 6-2 but Coco managed to bounce back and win the next two sets 6-3 and 6-2 to claim the title. "That French Open loss was a heartbreak for me, but I realize that God puts you through tribulations and trials, and that makes this moment even sweeter than I could've imagined," said Gauff in a post-match interview.
Sabalenka praised Gauff's talent during the trophy ceremony saying, "She was moving just unbelievable today. But then the second set I start[ed] probably overthinking, and because of that I start[ed] kind of like losing my power. Then she start[ed] moving better. I start[ed] missing a lot of easy shots."
The 19-year-old has awed the world with her talent and determination during the tournament as she became the third American teenager to win the US Open as well as the third ranked women's player in the world. "I just knew that if I didn't give it my all, I had no shot at winning," Gauff shared.
Story continues below advertisement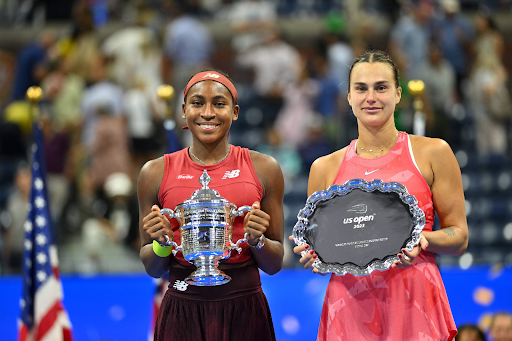 Following the match, Sabalenka became the number one ranked female tennis player dethroning Iga Świątek who has been the world number one for 75 weeks. "Becoming a World No. 1, it's a huge improvement, and achievement, actually. I'm really proud of myself that all those years I have been working so hard helped me to become World No. 1," expressed Sabalenka.
Daniil Medvedev (no.3) and Novak Djokovic (no.2) faced off in the men's final that took place on Sunday, September 10. The match had a dramatic 104-minute set, the longest of the tournament, where both players fought their hardest. Ultimately Djokovic displayed why he is a tennis legend and won the match 6-3, 7(7)-6(5), 6-3. Djokovic claimed his fourth US Open title and his 24th grand slam title. He also became the oldest US Open winner at 36 years old. "I never imagined that I would be here talking about 24 Slams. I never thought that would be the reality, but the last couple of years I felt I have a chance, I have a shot at history—and why not grab it if it's presented," said Djokovic during the trophy ceremony.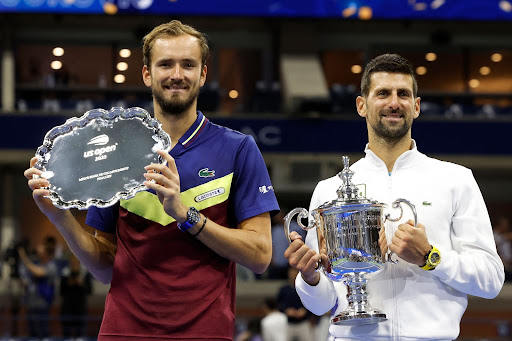 This was not the first time the pair have met at the US Open as the pair faced off in 2021 with Medvedev winning three consecutive sets 6-4, 6-4, 6-4. Medvedev jokes, "First of all I want to ask Novak what are you still doing here? Come on…" He later reflected on his performance, "The second set was the best set I played and I didn't win it. So that's why it's normal that the match went that way because first and third he was kind of better. The second, if I would win it, maybe it could have been a different game. Yeah, that's how life is and how tennis is. So I'm going to try to be better next time."
Before the trophy ceremony, Djokovic put on a 'Mamba Mentality' shirt with an image of him with the late Kobe Bryant. He did this because he is celebrating 24 grand slams and Kobe Bryant's jersey number was 24. When asked about his decision to wear the shirt he explained, "Kobe was a close friend. We chatted a lot about a winner's mentality when I was struggling with injury, trying to make my comeback. He was 1 of the people I rely on the most… he was always there for advice. What happened with him & his daughter passing hurt me deeply. 24 is the jersey he wore when he became a legend of Basketball. It was a symbolic thing to acknowledge him for all the things he's done."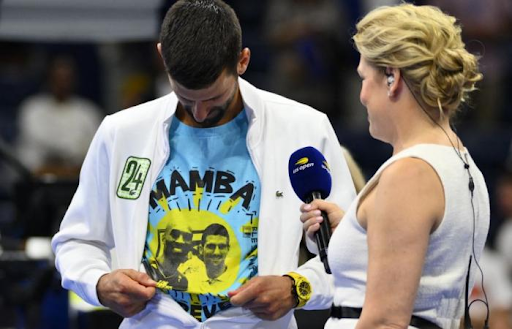 The US Open has proudly been the first tennis tournament to offer men and women equal prize money for fifty years. The first-place winners of the singles tournament won three million dollars while the runner-ups received one and a half million dollars.
This year's US Open brought in a record-breaking 957,387 fans over the course of 20 days which included the tournament and fan week. It was a spectacular way to close off the grand slam season.