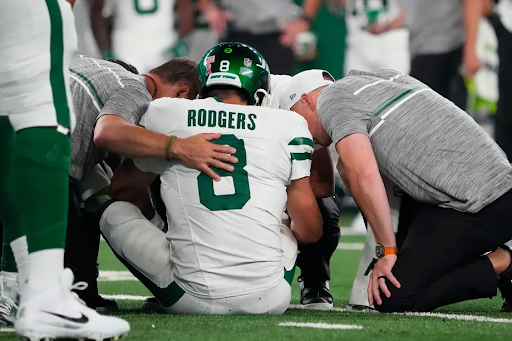 Aaron Rodgers suffered from a season ending injury just minutes into his New York Jets debut on September 11. The game was the Jets' season opening game at MetLife Stadium against the Buffalo Bills. The quarterback had signed a $112.5 million three year deal where he would make a guaranteed $75 million.
The 39-year-old quarterback has had a remarkable career and is a future hall of famer. He has played in the NFL for 17 years, making his professional debut in 2005. He played on the Green Bay Packers for 18 seasons before being traded in the offseason to the Jets in 2023. Rodgers was the Jets' hope to end their playoff drought, as the team has not made the playoffs since 2010, the largest playoff drought in the NFL.
Before the game Rodgers was interviewed by John McEnroe where he expressed his hopes of leading the Jets in the postseason: "I believe in the power of manifestation, turning the desires of your heart into reality. First you've got to believe it… first we've got to believe we can go and make the run, and then once we start believing, and start playing the right way, then you see everyone else start believing." Ultimately his hopes were shattered as just four plays into the game Rodgers was helped off the field with a torn achilles.
Rodgers broke his silence on his injury on September 13 and posted on Instagram, "I'm completely heartbroken and moving through all of the emotions, but deeply touched and humbled by the support and love. Please keep me in your thoughts and prayers as I begin the healing process today."
Story continues below advertisement
Rodgers' surgery was successful but there is still a long way to recovery and it is confirmed that he will be out for the season.