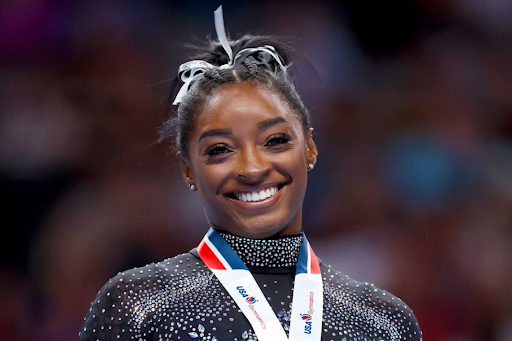 Simone Biles is going for the gold in the 2024 Olympics. After having to pull out of the 2021 Tokyo Olympics due to her mental health, Biles recently announced the return to her gymnastics career.
The 26 year old was born in Columbus, Ohio. She was introduced to gymnastics during a field trip at the age of six. Since then, she has won 25 world championship medals, making her the most decorated gymnast at world championships.
Early Career
Story continues below advertisement
After winning the gold in floor and the bronze in vault at the Women's Junior Olympics National Championship, Biles began her elite gymnastics career at 14, just eight years after beginning the sport. Less than two years later, in 2013, she won the all-around title at her first world gymnastics championships, becoming the first African American woman to claim the title. In the 2014 world championships, Biles won four gold medals in the women's team competition and the individual all-around, balance beam, and floor exercise. She also took the silver medal in vault. Biles became the first woman to win third consecutive all-around titles since 1992.
Rio De Janeiro Olympics 2016
At 19 years old, Biles qualified for the 2016 Olympic team along with Aly Raisman, Laurie Hernandez, Gabby Douglas, Madison Kocian. Biles earned a total score of 62.198 with 15.866 on the vault: 14.966 on the uneven bars, 15.433 on the balance beam, and 15.933 on the floor. She won the gold on the floor exercise, vault and all-around, as well as the bronze on beam. The five gymnasts won the 2016 Olympics, taking home the 3rd gold ever won by the U.S. gymnastics team.
Tokyo Olympics 2021
Six women competed on the 2021 Olympic team. Simone Biles, Sunisa Lee, Jordan Chiles and Grace McCallum, competed in the team event. Jade Carey and MyKayla Skinner competed in the individual apparatus events.
Biles had to pull out of the all-around competition because of her mental health. Biles had told her coach and a team doctor that she was not in the right head space to continue, and she said that she was afraid of injuring herself. "It's the craziest feeling ever: not having an inch of control over your body. What's even scarier is since I have no idea where I am in the air, I also have NO idea how I'm going to land or what I'm going to land on: head/ hands/ feet/ back," she tells ENews.
Paris Olympics 2024
Biles won the 2023 U.S. Classic, marking her official return. On September 8th 2023 she announced to NBC that she was going to return to compete at the 2024 Paris Olympics. Along with physical training for the Olympics, Biles has been incorporating mental health days in her routine to prepare her for the mental feat of competing.
"I have to take care of myself a little bit more and listen to my body and making sure that I'm making time for the important things in my life," Biles shares with TODAY. "Rather than before it was just like, 'Go, go, go' and then making time after, and this time around it's like being intentional, going to therapy, making sure everything is aligned."
"I feel more prepared than at any other Classics I've been to. I think I'm in better shape than I was in 2021, mentally and physically." Biles says at the U.S. classics.