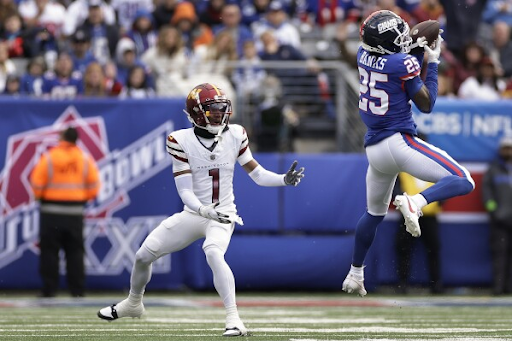 The Washington Commanders are coming off a Week 7 loss against the New York Giants that sparked more questions than answers. The Commanders came into the game with a win against the Atlanta Falcons the week prior, looking to carry the momentum by getting a key NFC East divisional win.
However, they managed to play down to The Giants in almost every way possible. Washington was dominated on both sides of the ball on the line of scrimmage while the offense seemed to never get off the bus, letting the Giants defense toy with them as they punted every drive in the first half.
The Commanders Defense was not much better as they let the Giants offense, led by the back-up QB, Tyrod Taylor, score their first offensive touchdown in 4 games. That was the Giants first home touch down all season, and it seemed to give the Giants the momentum they needed to push through.
The Commanders offense would come out of halftime with a bit more fire than the first half, with a rushing touchdown by running back Brian Robinson Jr., which gave Washington their first points of the game.
Story continues below advertisement
On the final drive of the game, Quarterback Sam Howell looked to take his team to overtime, but ultimately would fail doing so with Wide Receiver Jahan Dotson dropping a key 4th down conversion. The Giants would get the ball back, running the clock down to the final whistle. With the final score 14-7, Washington finished in the loss column once again, putting their record at 3-4.
Commanders DT Jonathan Allen voiced his concerns when asked by NBC reporter JP Finlay post game.
Allen stated "they whooped our ass plain and simple" and when asked if it gets frustrating losing like this Allen stated " I'm f****** tired of this bull****, It's been seven f****** years of the same s***."
Asked by Finlay if they could do anything to turn it around, Allen said "get our minds right to play f****** Philadelphia."
The Commanders play the Eagles at home this week at 1pm. Philly is coming off a massive win against the offensive juggernauts, the Miami Dolphins, where Philly maintained a comfortable lead the entire game.
Week 8 against the Eagles will prove to be a testament to the season as the halfway mark is closely approaching, and Washington is already 0-2 against division opponents. The more divisional wins this team can get, the better the playoff chances.