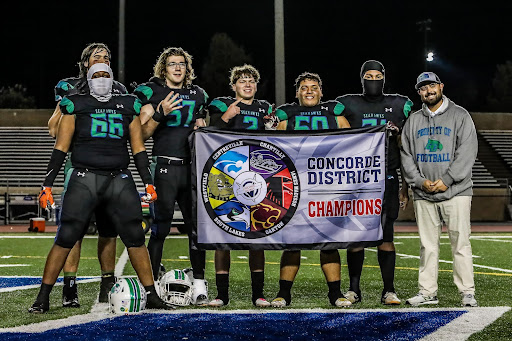 The South Lakes Seahawks defeated Westfield, completing their perfect 10-0 season. The Seahawks not only finished with the best record in school history, but also won the Concorde district for the first time ever.
South Lakes got out to an early 14-0 lead in the first quarter thanks to Isaac Copeland and Brian Kennedy touchdowns. Westfield came back with 17 unanswered points to take the lead at Halftime. Senior Receiver James Zschunke caught a touchdown late in the 3rd quarter to give the Seahawks the lead heading into the final quarter.
Going into the 4th, South Lakes had a 21-17 lead. That didn't last long though as Westfield RB Kennedy Duda took one to the house to give Westfield the lead. The score stayed at 24-21 until 2 minutes left in the game. On the Seahawks final offensive drive of the game, Quarterback Nick Harris found James Zschunke, yet again, for another touchdown. Zschunke's second touchdown of the game, this time a 51-yard reception, helped propel the Seahawks to their 10th victory of the season.
Due to power point standings, the Seahawks will be the two seed in the Northern Regional Playoffs, behind 9-1 Madison. This would force South Lakes to go on the road earlier than anticipated, being stalked to go on the road to Madison for the second time this season. South Lakes will take on Yorktown this Friday night at home. This is the Seahawks first playoff game since the 2021 season, where they lost to Madison. If the Seahawks were to advance, they would take on the winner of Washington & Liberty and Westfield.
Story continues below advertisement