Goll showcases art passion in IB Art Show
Advertisement
Hang on for a minute...we're trying to find some more stories you might like.
The IB Art Show held April 8 showcased pieces created by IB art seniors and Ceramics and Art 4 students. Senior IB art student Annie Goll's artwork was featured in the showcase.
Goll possesses a deep passion for art, one she has had since she was a child.
"I've been doing art since I could hold a pencil," Goll said.
Goll's art is inspired by other artists as well as other mediums. Her artistic abilities are not limited to one form.
"I get inspiration from everywhere," Goll said. "Other artists, authors, books, and music all provide me with inspiration. I like doing pen and marker drawings. I also like to use watercolors."
IB Art teacher Veronica Irrera commented on how Goll's art pieces have evolved over the past two years.
"They are very thematic and somewhat illustrative," Irrera said. "They've gone from monochromatic, meaning mostly black and white to being quite vibrant and colorful now."
Goll's artistic talent is noticed by her fellow peers and teachers.
"She is extremely talented," Irrera said. "What sets her apart is her ability to work out of her authentic self."
The opportunity to display one's creativity and artistic talent like Goll's in the IB Art Show is what makes the event so interesting to attendees.
"I think the IB Art Show in conjunction with the MYP fair is the single best representation of the substance of our school and students," IB Art teacher Matthew Ravenstahl said. "The two events together are evidence of the entirety of the IB learner profile permeating throughout the school. Most especially the creativity, intellect and problem solving so essential to living in a post-modern, globalized reality of the 21st century."
The IB Art show was not Goll's first time publicly displaying her work. She has also participated in local art shows for the past few years.
Goll takes pride in presenting her artwork to a larger audience through opportunities such as the art show.
"I like seeing people's reactions to certain pieces," Goll said. "Sometimes what I intend for people to see is not at all what stands out to them and that's always really interesting."

About the Writer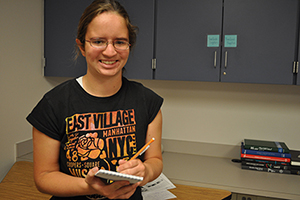 Meaghan McIntyre, online editor
Meaghan McIntyre is a senior and the opinion editor for the sentinel. As a third year journalist she is excited to expand her knowledge and skills involving...