Creativity helps Class of 2012 secure spirit stick at pep rally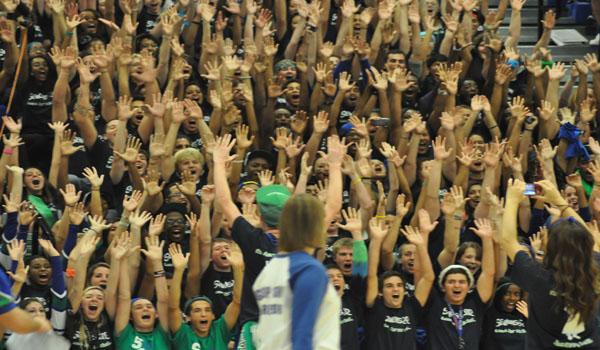 Charlotte Smith, Weekly Wall editor
October 21, 2011
Crazy was an understatement for this year's annual Homecoming Pep Rally held on Friday, October 21.
Reston might as well have been under a second earthquake as all students cheered and stomped to show their class spirit. The raucous experience culminated with the Class of 2012's roller coaster experience.  The seniors won the spirit stick.
"It was a perfect illustration of how spirited this school is," said activities director Mike Astudillo.  "It's the most spirited school in Fairfax County."
The event started off with an introduction of the 2011-2012 Homecoming princes and princesses, followed by the fall sports captains' relay and performances from the dance team and the cheerleading squad.
"The cheer performance went great," said varsity cheerleader and junior Ashley Sandoval.  "Everyone was on cue."
Lastly, Principal Bruce Butler and English teacher Larry Ward battled it off in a mock Saxons vs. Seahawks scuffle on the balance beam.  Butler won.
The hype continues at the Homecoming football game between South Lakes and Langley at 7 p.m.