German teacher's March Madness verb game goes international
Hang on for a minute...we're trying to find some more stories you might like.
Every year Cheryl Finley's German classes have a special way to review the multiple tenses and verbs during the month of March.
All students participate in a game with a set up similar to the brackets of March Madness. A strict set of rules has been developed through the years. No jewelry and no long nails permitted.
"It's just as a way to help kids encourage learning the various tenses," said Finley.  "Students are competitive and this is way to cover a lot of content in a fun way. The winner is rewarded for taking the time to memorize verbs in all the tenses."
"It's nice to see the progress students make, especially if they've been part of March Madness since the first year of German," said Finley.  "Competition and rivalry is created among the students."
The way the game is played is this. The teacher calls out a verb and students will then have to conjugate it correctly. The student who arrives to the answer first, calls out the answer and if correct, will move on to the next round.
The winners for the last two years have been senior Evan Hall and junior Alex Howard.
On July 21, 2011 Howard moved back Southampton, England. He lived in the states for two years and took two years of German while attending South Lakes.
"My freshman year I went to finals against Evan and I lost," said Howard. "My sophomore year I beat Evan and the whole class."
Howard and Hall will compete against one another in a rubber match via Skype.
"I am excited to participate in March Madness through Skype," said Howard.  "I will feel part of the class again and I am hoping to get the chance to beat Evan again."
On the other hand, Hall is indifferent on the idea to Skyping Howard for the game.
"Even though the class feels united, I feel like the game is over publicized," said Hall. "I have a feeling there is going to be a delay through Skype, so we will see how it goes."

About the Writer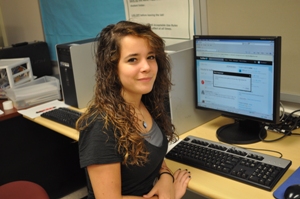 Viviana Del Toro, business manager
Viviana is currently a senior, loves photography and is fluent in four languages. Born in Italy, Viviana has lived in America since October 2009. She lived...