Students to participate in IB Iron Chef competition
Advertisement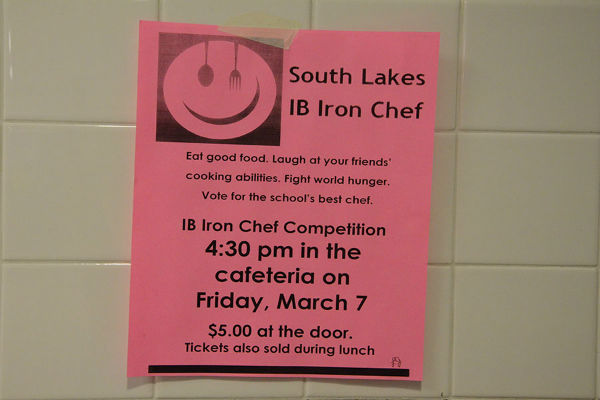 The first annual IB Iron Chef will be held at South Lakes to raise awareness about world hunger.
IB Iron Chef began with a couple of students who have a passion for raising awareness and fundraising for world hunger. Students were given the opportunity to sign up as a ticket salesman, decoration staff, or a chef. Students going for the IB diploma may receive one CAS hours by selling three tickets to the IB Iron Chef competition, which will be held on March 7 from 4:30-6 p.m.
"I'm part of the decorations committee and also a chef," junior Princess Aghayere said. "I'm participating because I like to cook. And it's also for a good cause."
IB Iron Chef provides a great opportunity for students for many reasons.
"We have a large international community here, so why not showcase the culinary aspect of these cultures?" history teacher Rebecca Eisenberg said. "The IB Iron Chef is an opportunity for the IB students to collectively work together to select an issue they care about and raise awareness and funds for it."
According to junior Michelle Ma, the IB Iron Chef is an opportunity to receive CAS hours in an easy and fun way.
"It's a fun activity to do with friend," Ma said. "I'm going to be a chef and I plan on making some Asian food with my friend. I also really need CAS hours so this is a great opportunity for me."
BenGusto Buddy Cooking Class will also participate by demonstrating how to make homemade pasta at the competition as well.
For more information, visit Mrs. Eisenberg in Room 213, or visit the link below.
https://www.facebook.com/pages/IB-Iron-Chef-South-Lakes-HS/672767589413469