All you need is love
Advertisement
Hang on for a minute...we're trying to find some more stories you might like.
Within the school, there are not only student couples but also faculty spouses.
IB coordinator Marie Turner and history teacher Alex Turner will be celebrating 28 years of marriage on March 14. Their first encounter was during college at the University of Virginia.
"At the time, Alex was attending CNU while I was at UVA," Turner said. "He was visiting his brother on campus when we met. My roommate actually ended up marrying his brother and will also be celebrating their 28th wedding anniversary."
For the last thirteen years, they have both been employed at South Lakes.
"It has been really great working at the same place because our kids attended South Lakes as well," Turner said. "We both were able to have the whole family together since our children graduated during the time we both worked here."
Along with the Turners, English teacher Kathleen Schenker and substitute teacher Stanley Schenker both find each other at the same workplace as spouses of 40 years.
"While he has subbed for a little over two years, he has had several long term substituting experiences in other schools prior to this year," Schenker said. "This is the first year he has spent significant amounts of time here. Next week will be his third week at another school for a teacher who has some health issues, so I don't know when he will be back here, but I miss him."
Working together often leads to comparisons, which Kathleen Schenker has received first-hand.
"Students have told us that I am nicer than he is, but I believe that substitute teachers have to be stricter," Schenker said. "However, I still enjoy being thought of as the nice one."
Schenker discovered the benefits of working alongside her husband.
"I did not think I would like working at the same school, but I enjoy having him here," Schenker said. "I enjoy not having to drive in by myself and I like running into him during the day. Now when I shop at Giant or Harris Teeter, both of us see students or parents we know, which is always nice."

About the Writer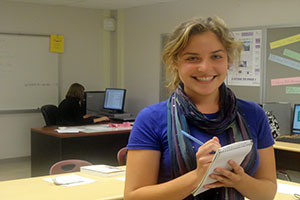 Sarah Wood, editor-in-chief
Sarah Wood, a senior, has been on The South Lakes Sentinel staff for four years. Her favorite subject is English, so she loves to write. She coaches a...