Senior works towards his dream job in medicine
Advertisement
Hang on for a minute...we're trying to find some more stories you might like.
Senior Christian Vagonis has been working as an Emergency Medical Technician (EMT) since his sophomore year of high school. Vagonis volunteers for the Sterling Volunteer Rescue Squad in Loudon County.
Ever since a young age Vagonis has known that he had a passion for the medical field.
"The medical field has always been something that was an interest of mine really since I was five years old," Vagonis said. "I'd been waiting for the right opportunity to act on it and really be able to do something and actually gain some skills and some knowledge. Being an EMT at 16 years old was probably the best way to do that."
Vagonis had to complete approximately a years work of training in order to become an EMT.
"There are a lot of prerequisite classes that you have to take including Bloodborne Pathogens," Vagonis said. "You learn how to handle hazardous materials, CPR, and a few others as well as the initial application for the rescue squad that you join. There is also the EMT class itself which is about six months so in total it takes about a year."
His work as an EMT is to help him eventually reach his main career goal of becoming an Emergency Room Physician. When Vagonis attends the University of Virginia this fall he will be continuing his work as an EMT.
"I will be joining their rescue squad that they have on campus," Vagonis said. "I'll be continuing on the rescue track along with taking premed classes all with the intention of becoming a successful physician."
For Vagonis the medical field is a great opportunity for him to help others.
"It's really the bread and butter of helping people who can't help themselves, that's really why we do what we do," Vagonis said. "We get 911 calls every day, multiple times a day responding to numerous different events from car accidents to broken arms to stabbing and shootings, all comprised of people who need emergency medical assistance. I always find satisfaction in helping people who are in a time of need."

About the Writer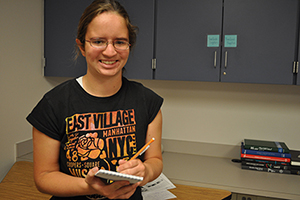 Meaghan McIntyre, online editor
Meaghan McIntyre is a senior and the opinion editor for the sentinel. As a third year journalist she is excited to expand her knowledge and skills involving...