SLHS Guatemalan Service Trip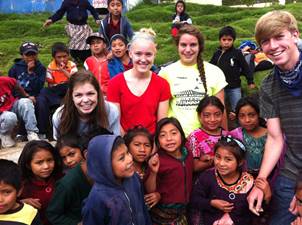 Hang on for a minute...we're trying to find some more stories you might like.
Spanish teachers, Mrs. Hope and Mrs. Rebello, are leading a community service trip to Guatemala to serve the women of the community by building stoves inside their homes. Many people are forced to cook outdoors over open, uncontrolled flames, breathing in toxic air leading to serious burns and pulmonary illness. Students will work help natives by providing them with safer indoor cooking methods.
"We hope to build at least four stoves that will serve 4-6 families of the community," said Rebello.
Students who take part in this exciting opportunity will visit Mayan communities in the highlands of Guatemala. While the trip's primary goal is to perform community service, students that take advantage of this opportunity will also go sightseeing and tour Guatemala's beautiful highlands by doing activities like swimming in hot springs. Students will also participate in reforestation by planting trees and other plants. They will also get to experience the Guatemalan culture through a Mayan fire ceremony and a Mayan ball game.
"The goal of this trip is to help the Mayan community. We go and build the stoves and help to improve their lives and learn a little bit about their culture, and we get to practice our Spanish, which is the best part of all this," said Rebello.
This trip is open to all students that students who have experience or completed at least two years of Spanish. For those not enrolled in intermediate or advanced level Spanish classes, it is possible to get an application to approval by the Mrs. Hope.
The deadline to register is November 29th, 2017 and the trip will take place June 16-23 2018. $100 deposit is needed to secure your spot, as they can only take 21 students.
If you have any questions, comments, or concerns you can email Mrs. Hope, at kmhope@fcps.edu, or Mrs. Rebello, at smrebello@fcps.edu.
More Photos courtesy of Sra. Rebello

About the Writer
Leah Weizman, staff writer
Leah Weizman is a sophomore here at South Lakes High School. This is her second year working as a staff writer on the sentinel. She plays field hockey...