8 Things to Do Over Spring Break (3/24 – 4/2)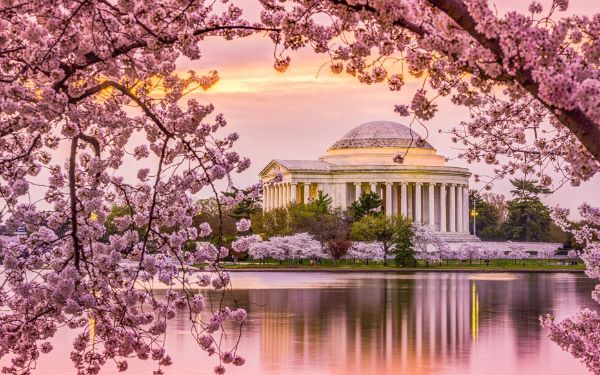 Hang on for a minute...we're trying to find some more stories you might like.
1.) Don't miss the National Cherry Blossom Festival in Washington, D.C.! Spend the day touring the nation's capital and admiring the many gorgeous pink cherry blossom trees. Have your camera ready so you can take plenty of photos (the trees are picture-perfect), and make sure to walk through D.C.'s many famous museums, go on a tour and see the monuments, and check out the street vendors. Afterwards, hit one of the local restaurants (D.C. is known for its impressive food scene). I would recommend dining a Jaleo by Jose Andres (one of my all-time favorite chefs), Belga Café, and Farmers Fishers Bakers. You could also go on one of the Cherry Blossom Festival's sightseeing cruises. Out on the water, you'll have stunning views of the cherry blossom trees, historical landmarks, Washington monuments, and D.C.'s thriving city (one of the cruises even offers lunch and dinner, entertainment by a DJ, and games onboard).
TO learn more about the festival, check out: https://www.nationalcherryblossomfestival.org/
If you're interested in going on a Cherry Blossom Cruise, see: https://www.potomacriverboatco.com/sightseeing-tours/cherry-blossoms-cruises/?loc=feat&2
If you're interested in Jaleo, please go to: https://www.jaleo.com/
If you're interested in Belga Café, see: http://www.belgacafe.com/
If you're interested in Farmers Fishers Bakers, visit: https://www.farmersfishersbakers.com/
2.) Explore the National Harbor in Maryland! There are soooo many things to do there. Shop until you drop at their boutiques on the waterfront and the Tanger Outlets (they have over 80 stores), dance to the music at the Teen Beats Show in Bobby Mckey's (the only dueling piano bar in D.C.), go up on the Capital Wheel (for breathtaking views of the Harbor), admire the mosaics and sculptures that line the streets, take a water taxi or go on an entertainment cruise, relax at Gaylord Resort's Relache Spa, ride the carousel, and watch the Sun set (another moment for the 'Gram). I recommended dining at Cadillac Ranch, Fish by Jose Andres, or Mason's Famous Lobster Rolls.
To find out more about fun things to do at the Harbor, head to: https://www.nationalharbor.com/
If you're interested in Cadillac Ranch, click on: http://www.cadillacranchgroup.com/
If you're interested in Fish by Jose Andres, please see: https://www.mgmnationalharbor.com/en/restaurants/fish-by-jose-andres.html
If you're interested in Mason's, check out: http://masonslobster.com/national-harbor/
3.) If you feel strongly about putting an end to gun violence and school shootings, then you should join the March for Our Lives, a student-led march that is taking place in Washington, D.C. (sister marches are taking place in other locations). Kids and families from all over the country are invited to come and protest.
Head to: https://marchforourlives.com/ to learn more.
4.) Go to the Gloucester Daffodil Festival in Gloucester, Virginia! Watch the parade on Main Street and see the Daffodil Queen, attend the Mutt Show, look at all of the gorgeous daffodils, enjoy rides and games, shop at different vendors, listen to music, get your face painted, participate in the 5K and Fun Run, and chow down on good BBQ and funnel cakes at the Food Court.
For further information on the festival, take a peek at: http://daffodilfestivalva.org/
5.) Do you celebrate Easter? Then you'll enjoy going on an Easter Egg Hunt at Cooper's Landing Inn and Traveler's Tavern in Clarksville, Virginia! Bring your basket and search for decorates hidden all over the gorgeous property. Visit with the Easter Bunny himself and sit down to a tasty brunch at the Inn's lovely little restaurant. You'll soon discover why this Cooper's Landing Inn is a popular spot for weddings and other events.
Please visit: http://cooperslandinginn.net/
6.) Visit Lewis Ginter Botanical Garden in Richmond, Virginia! They garden has an extensive variety of different flowers, including cherry blossoms, daffodils, irises, crocuses, Lily of the Valley bushes, roses, cherry plums, star magnolias, camellias, bluebells, poppies, azaleas, lilacs, and more. Be sure to heck out their origami exhibit and their live butterflies. If you get hungry, visit the Garden Café or the Robins Tea House. Don't forget to buy some fresh, local honey to take home with you!
You'll find more info about the garden at: http://www.lewisginter.org/
7.) Take a road trip and explore Shenandoah Valley! There are so many things to do along the way – I don't know where to begin! Go camping or stay in a cabin or a cozy inn, see historic sites. Travel through thriving towns including Bedford, Lynchburg, Luray, and Staunton and get a taste of their music, history, and culture. Go shopping, try their delicious food, and experience local attractions. Make sure you go see the Blue Ridge Mountains and pay a visit to Shenandoah National Park or go along Skyline Drive.
Go to: https://www.visitshenandoah.org/ to plan your visit.
8.) Do you enjoy a good movie? Go to the 2018 Annapolis Film Festival in Annapolis, Maryland! The event will take place in five different venues and features more than 70 different independent films, features, documentaries, and shorts from all over the world. Parties and workshops will also take place in the venues. Believe me, you won't want to miss it!
To find out more, look at: http://annapolisfilmfestival.com/

About the Writer
Miranda Sandoval, Staff Writer
Miranda Sandoval is a senior and online editor for the South Lakes Sentinel. She enjoys writing stories and poetry, good food, and going on adventures.